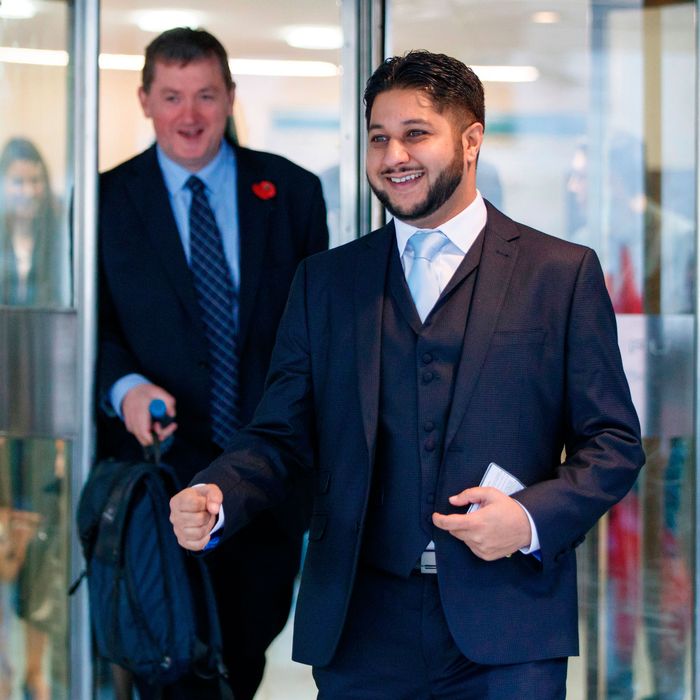 Photo: Tolga Akmen/AFP/Getty Images
Good news for Uber drivers in London today. An employment tribunal upheld last year's ruling that they cannot be classified as "self-employed" workers, which means they are entitled to a number of rights, including minimum wage and paid time off. Which is perhaps less good for Uber, who probably wasn't looking to pony up the money to cover those costs. The company plans to appeal the ruling to a higher court, Reuters reports.
The battle over workers' rights in London began last October when James Farrar and Yaseen Aslam — two former drivers representing a group of 19 others — took Uber to court. The men won, and the ruling — holiday pay and minimum wage for all British Uber drivers — looked like it could have larger implications for gig-economy employees everywhere. "That decision did not automatically apply to the app's 50,000 drivers in Britain but was seen as likely to prompt more claims," writes Reuters. A year later, Uber is still fighting, and losing, the same battle. Which just happens to be taking place amid greater tension between London and Uber. Earlier this fall, the city's mayor banned the ride-hailing service, citing safety concerns like ineffective driver background checks.
"Today's victory is further proof, as if any more was needed, that the law is clear and these companies are simply choosing to deprive workers of their rights," Jason Moyer-Lee, general secretary of the Independent Workers Union of Great Britain — the union that represented the drivers in today's ruling — told Bloomberg.