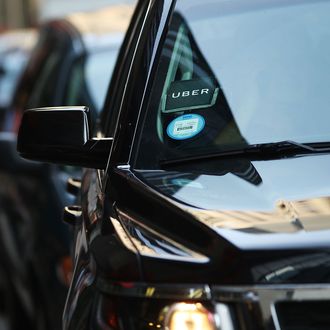 Photo: Spencer Platt/Getty Images
As the weather cools down and travelers all over begin to say, "Okay, screw it, I'm calling an Uber," the ride-share service has added a few quality-of-life improvements to make things easier.
The most important of these new announcements is live location sharing. Previously, your driver would only know where you were supposed to meet them based on the designated location. Now, they'll also be able to see where you're actually standing using GPS. That way, if you're across the intersection, or can't quite figure out which black Toyota Camry you're supposed to be looking for, the driver can find you.
Along with that, the company is expanding its Beacon program. Beacons are just lights that Uber drivers can put on their car, and when you match up with one, you can control what color the light is, making the vehicle easier to spot.
These improvement will make it easier to connect with your driver over the holidays, and in a few years, make it easy to spot the driverless car they were replaced with (Uber just order 24,000 autonomous vehicles from Volvo).