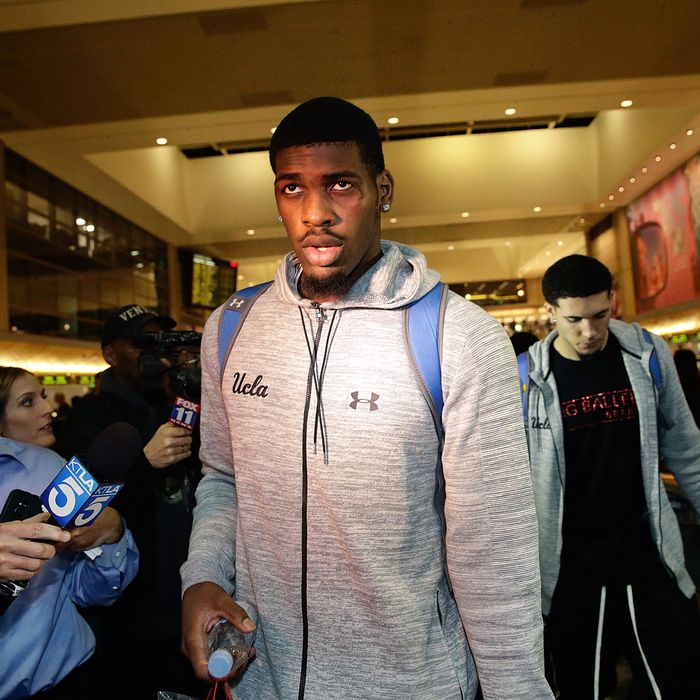 UCLA basketball players leave LAX on Tuesday.
Photo: Jae C. Hong/AP
President Trump got the public praise he was looking for Wednesday after helping to bring home three UCLA basketball players arrested for shoplifting in China.
Cody Riley, Jalen Hill, and LiAngelo Ball, brother of Lakers rookie Lonzo Ball, appeared at a press conference Wednesday morning and all three thanked Trump by name. Earlier in the day, Trump had wondered if they would sing his praises, in a self-aggrandizing tweet.
The players were accused last week of stealing sunglasses from a Louis Vuitton store in Hangzhou. They were released on bail on November 8, but missed UCLA's November 11 game against Georgia Tech in Shanghai and remained in China when the rest of the team flew home.
On Tuesday Trump told reporters he put a word in with Chinese president Xi Jinping. "The basketball players, by the way — I know a lot of people are asking — I will tell you, when I heard about it two days ago, I had a great conversation with President Xi," he said. "What they did was unfortunate. You know, you're talking about very long prison sentences. [The Chinese] do not play games."
Neither Trump's suggestion of a "very long" prison sentence or a full decade in jail is in line with Chinese law, as the Washington Post reports.
The sunglasses in the Louis Vuitton store in Hangzhou are priced at or around 4,900 yuan ($750). According to Chinese law, anyone stealing goods worth between 4,000 and 7,000 yuan faces between one and two years in jail, although the sentence can be mitigated if they confess, show remorse and pay compensation.
The three freshmen undoubtedly got off with less punishment than a typical Hangzhou thief. But credit for that is not Trump's alone. The U.S. State Department also assisted in the effort, as did Jack Ma, the billionaire CEO of the Chinese shopping giant Alibaba, a sponsor of the Shanghai game.
But Trump was the only one to make a personal plea for gratitude and that set off some harsh criticism. Even the aggressively centrist pundit Chris Cillizza linked Trump's request for fealty to his attacks on people of color.
That the three players are all young black men should also not be lost here. Trump's history on racial issues – both as president and as a private citizen – shows some level of intentionality when it comes to using racially coded language and taking advantage of racial animus and stereotypes for his own political gain.
If Trump was trying to create a firestorm like he did when he attacked NFL players for protesting racial injustice, then he failed. But if his goal was more modest — to get a little ego-stroking at home after two weeks of it in Asia — then he can chalk this up as a success.