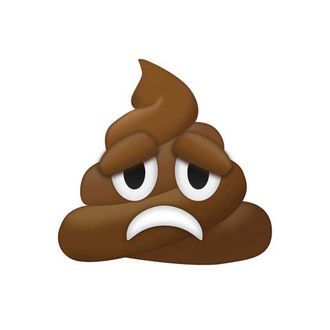 Lobster. Peacock. Hiking boot. Lacrosse stick. Microbe. These are a few of the 67 proposed emoji for the next batch of pictographs due in 2018. Each image must be debated and voted on by the Unicode Consortium — the governing body of emoji — before it can be added to the existing emoji lexicon. Each one — including the frowning-poop emoji.
According to a new report from BuzzFeed, frowning poop is threatening to tear the group apart. Typographers Michael Everson and Andrew West are leading the fight against the depressed feces. "The idea that our 5 committees would sanction further cute graphic characters based on this should embarrass absolutely everyone who votes yes on such an excrescence," Everson wrote in a memo in October. "Will we have a CRYING PILE OF POO next? PILE OF POO WITH TONGUE STICKING OUT? PILE OF POO WITH QUESTION MARKS FOR EYES? PILE OF POO WITH KARAOKE MIC? Will we have to encode a neutral FACELESS PILE OF POO?" He also argued that the new poop emoji could be used for bullying. Which. Sure. Because calling somebody a piece of shit is much more spiteful if the shit is frowning, rather than grinning.
West backed him up with a similarly capitalized memo. "I personally think that changing PILE OF POO to a de facto SMILING PILE OF POO was wrong, but adding F|FROWNING PILE OF POO as a counterpart is even worse. If this is accepted then there will be no neutral, expressionless PILE OF POO, so at least a PILE OF POO WITH NO FACE would be required to be encoded to restore some balance." He also told BuzzFeed that things between the technical committee and the Unicode standards working group — the two groups arguing over the proposed emoji — are still "pleasant." Which is good because I don't give a crap about the poop emoji, but I'd really like them to hurry up will that ballet flat.