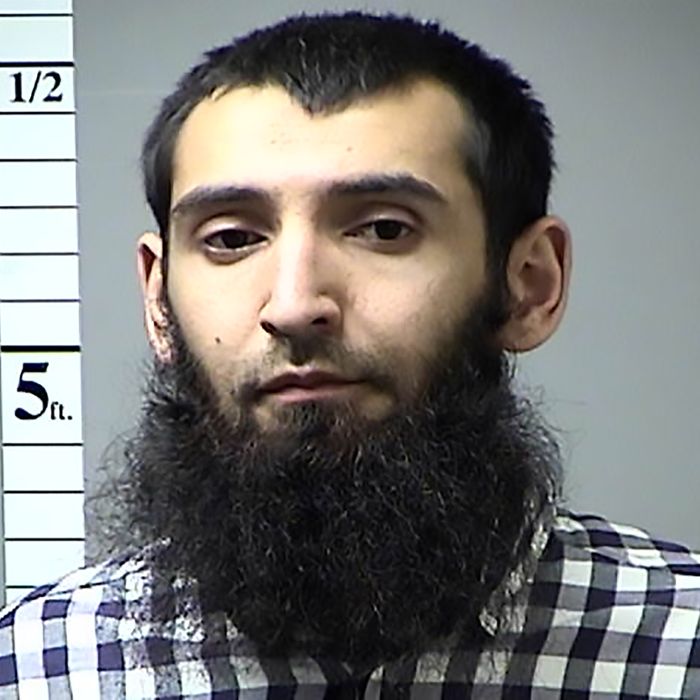 A 2016 photograph of Saipov obtained by the St. Charles County Department of Corrections in Missouri.
Photo: ST. CHARLES COUNTY DEPT. OF CORR/AFP/Getty Images
On Tuesday afternoon in lower Manhattan, a truck driver ran through a mile-long section of bike path, leaving eight people dead and 12 injured. He then leapt from the vehicle, shouting, "Allahu Akbar!" as he brandished a pellet gun and a paintball gun. When he refused orders to drop the weapons, NYPD officer Ryan Nash shot him in the stomach and took him into custody.
On Wednesday, federal prosecutors filed terrorism charges against the suspect, 29-year-old Sayfullo Habibullaevic Saipov. In court documents, they alleged that he was inspired by ISIS and spent months planning an attack that would "inflict maximum damage against civilians." Here's what we know about him so far.
The Uzbekistani immigrant had lived in Ohio and Florida, and settled in New Jersey last summer. He worked as a truck driver and for the ride-sharing companies Uber and Lyft.
Saipov came to the United States from Uzbekistan in 2010, and had a green card making him a permanent legal resident. ABC Chicago reports that he came under the Diversity Visa Program, which provides a lottery for people from countries with few immigrants in the U.S. He left home at 22, and never saw his hometown of Tashkent, the capital of Uzbekistan, again.
At the time, he was a moderate Muslim with dreams of making it in the U.S., according to the New York Times. His family was well-off and he studied at the Tashkent Financial Institute, one of the biggest universities in Uzbekistan. After graduating in 2009, he worked as an accountant in a Tashkent hotel.
Saipov hoped to work in the hotel industry once he arrived in the U.S., but with his lack of English, he was unable to find a job. Saipov was staying with his father's friend, a trucker, in Ohio, and instead wound up in that profession.
Dilnoza Abdusamatova, 24, told the Washington Post that Saipov stayed with her family in Cincinnati for his first two weeks in the country, then relocated to Cuyahoga Falls, Ohio. Abdusamatova's family was shocked to learn in recent days that Saipov had registered his trucking business, Sayf Motors Inc., at their address in 2011. He used an address in Cuyahoga Falls to register another business, Bright Auto LLC, and obtain a marriage license in 2013.
Saipov and Nozima Odilova, an immigrant from Uzbekistan nearly six years his junior, have three children — two girls and a boy born last summer.
Saipov did not seem like an extremist when he first arrived in Cuyahoga Falls. Per the Times:
Mr. Saipov liked fancy clothes, a vanity frowned on in conservative Islamic circles. He cursed as if he couldn't help it. He routinely showed up late for Friday Prayer at the Islamic Society of Akron and Kent. He displayed only rudimentary knowledge of the Quran.
However, Mirrakhmat Muminov, a truck driver and local community activist, said Saipov changed over the years, becoming aggressive and growing out his beard. Muminov described him as someone "with monsters inside."
"I always thought deep in my soul that he would be jailed for beating someone or insulting someone," Muminov said. "He had a vulgar character."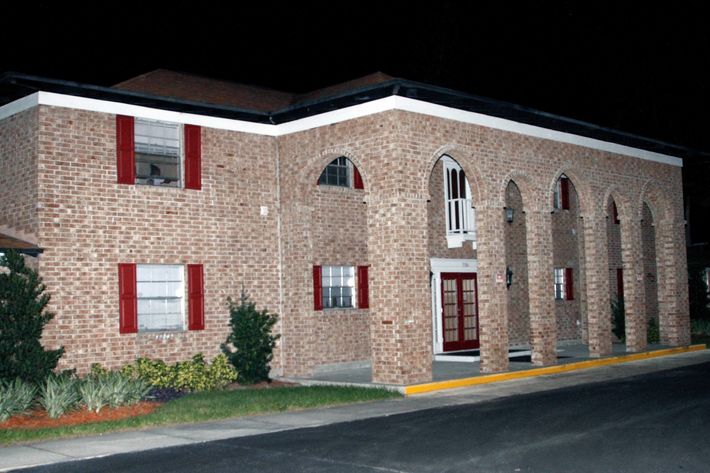 Though he had registered two businesses, Saipov mainly drove for other companies. At the end of 2015, he moved the family to Florida, but had a hard time finding work.
An imam in Florida told the Times he worried that Saipov was misinterpreting Islam.
"I used to tell him: 'Hey, you are too much emotional. Read books more. Learn your religion first,'" said Abdul, the imam. "He did not learn religion properly. That's the main disease in the Muslim community."
On Tuesday evening, two plainclothes police officers interviewed residents in a Tampa apartment complex where Saipov once lived. Kyong Eagan, who lives in the complex, told the Daily Beast that Saipov would bring her home-cooked meals, saying he wanted to share his country's food with her and gave her some household appliances when the family moved last summer. "I just can't believe it at all. He was just so genuine. I'm just so shocked," she said.
In the spring, Saipov told friends that he wanted to be closer to his wife's family, who live in Brooklyn. The family settled in Paterson, New Jersey, and Saipov began driving for Uber.
Uber confirmed that Saipov drove for the ride-sharing company, and said he had passed a background check. "We are horrified by this senseless act of violence," the company said in a statement. "Our hearts are with the victims and their families. We have reached out to law enforcement to provide our full assistance."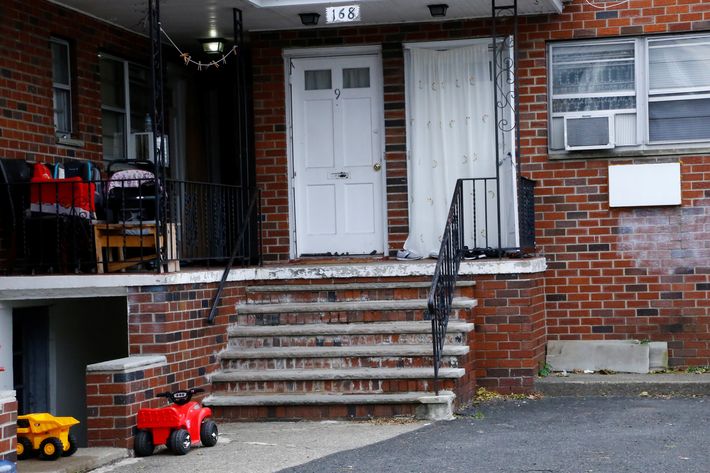 Over the years, Saipov racked up at least nine traffic citations across the country as part of his job. The most serious was a 2015 fine in Missouri for a cracked right-side brake. Months later, a warrant was issued for his arrest. Saipov was arrested in October 2016, and posted a $200 bond. The money was used to pay his fine when he failed to show up to a court appearance.
However, he had been on the radar of federal authorities. According to the Times, he came up in an unrelated investigation when he attended the Florida wedding of an Uzbekistani man under FBI scrutiny.
That did not trigger a separate investigation of Saipov, but authorities now believe he was becoming radicalized online. According to a criminal complaint, FBI agents found 90 videos and 3,800 photos on Saipov's phone, many of which were ISIS propaganda. This included videos of ISIS fighters killing prisoners and bomb-making instructions. Agents said he was particularly taken with a video in which ISIS leader Abu Bakr al-Baghdadi "questioned what Muslims in the United States and elsewhere were doing to respond to the killing of Muslims in Iraq."
The attack closely mirrored instructions for a vehicle attack offered in an ISIS magazine last November. Prosecutors say Saipov had been planning the attack for about a year. He rented a truck from a Home Depot in Passaic, New Jersey, nine days before the attack and practiced driving it. He also ran through the route he used to enter the city while driving for Uber.
The complaint says Saipov considered putting ISIS flags on the truck, but decided it would attract too much attention. A note found at the scene read in Arabic, "No god but god and Mohamed is his prophet," and "Islamic Supplication. It will endure," referring to ISIS.
While talking with law-enforcement officials in his hospital room, Saipov reportedly asked to put up an ISIS flag in his room, and "stated that he felt good about what he had done."
The Charges Against Saipov
Saipov was charged with providing material support to a terrorist group and committing violence and destruction of a motor vehicle resulting in death. He appeared at a hearing on Wednesday in a wheelchair, with his hands and feet chained. Saipov was provided a Russian interpreter, and indicated that he understood what was happening in the proceeding. He has yet to enter a plea.
The vehicle charge carries the possibility of the death penalty, and late on Wednesday night, President Trump tweeted that he believes Saipov should be executed.
Earlier, Trump said he was open to having him transferred to Guantanamo Bay. However, the charges were filed in civilian court, and Saipov is not being held by the military as an "enemy combatant," as Trump and some other Republican lawmakers recommended.
This post has been updated throughout.