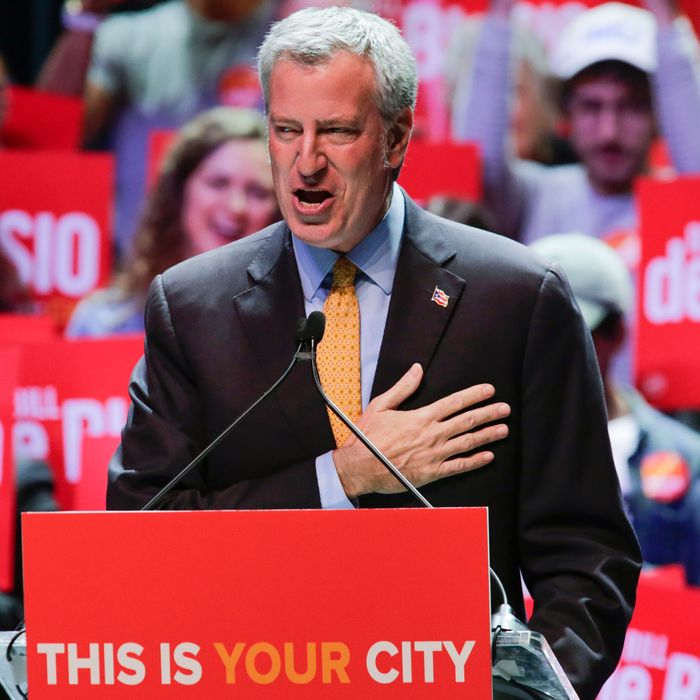 Photo: Eduardo Munoz Alvarez/Getty Images
On Tuesday, Bill de Blasio will crush his opponents, become the first Democrat to win reelection as mayor of New York City since 1985, and deliver a grievous blow to Donald Trump and his odious agenda for America.
At least that is how de Blasio is selling it, as he brings out Bernie Sanders to ride the A train and Elizabeth Warren to fundraise on his behalf. His opponent in this race is not Nicole Malliotakis, the Republican assemblywoman from Staten Island who trails by 30 points or more in most polls, nor is it Bo Dietl, the Trumpian court jester who trails by even more, and who appears to be running the race to land a late-night spot on the Fox Business Network. Rather, the mayor is running for reelection against the president. "We will stand up to Donald Trump every single day," de Blasio said on the day that Sanders came to campaign alongside him. "So long as he's in the White House, this city cannot be as fair as it needs to be unless we take him on."
Malliotakis has painted de Blasio as a corrupt Che Guevara whose second term will consist mostly of raising taxes to sandblast any reference to Christopher Columbus off city streets. She has been brushed off by de Blasio though, who never misses a chance to conflate the back-bench assemblywoman with the leader of the free world (thus, in different ways, elevating both GOP politicians).
In this multi-candidate field — former councilman Sal Albanese is also running, on the Reform Party line — it is hard to say what constitutes a mandate, especially one where turnout will likely fall below even 2013's historic low. If there has been an asterisk to de Blasio's mayoralty, it is that he won in 2013 with just a 24 percent turnout, which was less than the previous low of four years prior. To do what they can to gin up the numbers, the de Blasio campaign has embarked on a months-long effort to get New Yorkers interested in the race, with neighborhood-by-neighborhood phone banking and door-knocking. To date, the campaign has made about half a million phone calls and held nearly 1,000 campaign events. Regardless of how successful this effort is, unless somehow the margin of victory drops into the single digits, expect de Blasio to gloss over how few voters actually cast a ballot and tout the results as a validation of the last four years.
He will have a point. If de Blasio bests Bloomberg's 19-point margin of victory in 2005, he will have two historically large wins under his belt — the first being 2009's 49-point romp over Joe Lhota. And if de Blasio has not solved the central issue that he ran on four years ago — dramatically lessening the city's yawning gap between the rich and poor — he has proven something else: that a mayor of New York can be aggressively left-wing without the city reverting back to someplace that looks like the soundstage for a gritty '70s film remake. The key political validator for de Blasio is not, in other words, that he instituted universal prekindergarten, rolled out a plan to add 200,000 units of affordable housing, ended stop-and-frisk, or mandated paid sick leave for 3.4 million workers; it's that the city's economy grew and crime remained down while he did it.
But when he tells his own version of the story of his mayoralty, de Blasio will not mention the extent to which he has benefited from a string of remarkable political luck, from the implosion of Anthony Weiner and John Liu to Trump's victory last November. The outcome of the presidential election scared off the handful of Democrats who may have thought it worthwhile to challenge someone with an approval rating that has remained stuck at around 50 percent for most of his term, and who had been nagged by a series of questions about the legality of some of his conduct. There remains a persistent sense among the electorate that —evidenced by his late-morning gym visits, extended Italian vacations, and flailing forays onto the national stage — governing New York City is not always Mayor de Blasio's focal point.
Fulfilling even the modest goal of grabbing 60 percent of the vote amid dismal turnout would put de Blasio back in the national conversation —f or better or worse. De Blasio's attempt to be a progressive validator of the 2016 Democratic primary was a fiasco (anyone remember "The Progressive Contract With America"?) and has left him eclipsed by other big-city mayors like Los Angeles's Eric Garcetti, or even medium-sized-city mayors like Pete Buttigieg of South Bend or the newly elected Randall Woodfin of Birmingham. But another landslide win would for an unabashed left-winger in America's leading city would give de Blasio another chance. Friends and advisers say de Blasio seems to want a redo on the national front and will incorporate the lessons from the last time out. A different political ecosystem, one where it isn't Hillary vs. Bernie but a multi-candidate free-for-all where the party's left wing is ascendent, could leave de Blasio as a kind of lefty arbiter.
In policy and governance, de Blasio's next four years are likely to look much like the last four — prioritizing affordable housing, free schooling for 3-year-olds, and consistent efforts to raise taxes on the rich and level the playing field for everyone else. But de Blasio is likely to find local Democrats less dependable in their support for him this time around. If he continues to squabble with Andrew Cuomo, it may be an ugly four years —although the sight of the frenemies standing shoulder-to-shoulder in the wake of the Halloween terrorist attack reveals that some kind of thaw may be imminent. Both leaders want that, say aides to each.
Tuesday is surely not de Blasio's final political moment, and may not even be his last time on a ballot. He is only 56 and has spent his whole life in politics. With a big win, he is sure to be whispered about as a 2020 contender, although advisers say he is well aware that being New York City's mayor has always been the capstone of a political career.
"This isn't Giuliani's city anymore, or Bloomberg's city, where you aren't sure that the city is really going to survive," says one de Blasio adviser. "It's a city that is concerned about equality, justice, affordability, the environment. He is going to win because this is where New York City is right now. And it's where the national Democratic Party is. And it's where Bill de Blasio is."