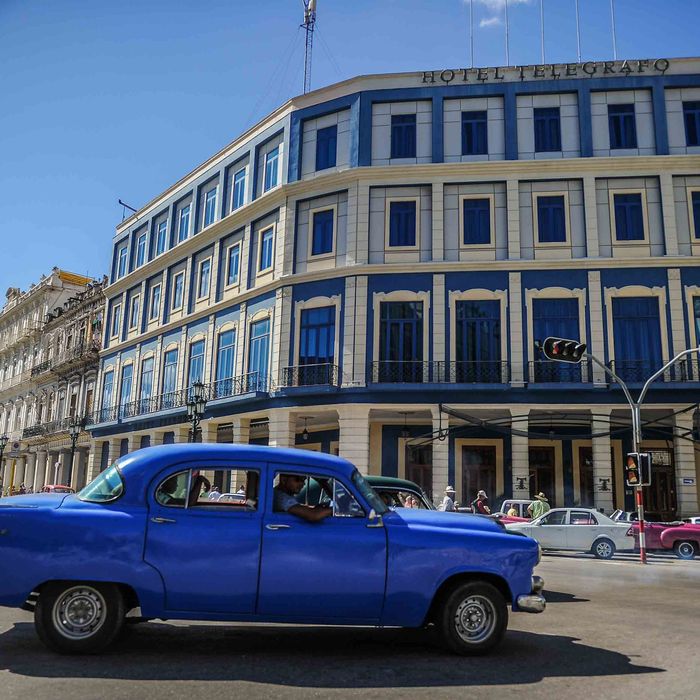 The Telegrafo Hotel in Havana.
Photo: Yamil Lage/AFP/Getty Images
The Trump administration on Thursday will announce new policies limiting travel and restricting commerce for American visitors to Cuba, in an effort to prevent U.S. citizens from enriching the island's government. The restrictions, which aim to undo elements of President Obama's landmark changes to U.S.-Cuba relations, will prohibit doing business with 180 Cuban entities and restrict individual travel to the island.
"We have strengthened our Cuba policies to channel economic activity away from the Cuban military and to encourage the government to move toward greater political and economic freedom for the Cuban people," Treasury Secretary Steven Mnuchin said Wednesday.
The rule changes come five months after Trump promised to cancel "the last administration's completely one-sided deal with Cuba." He hasn't gone that far, but some significant changes are taking place. Here's what you need to know:
• Traveling to Cuba on a so-called "people-to-people" visa, meant to foster cultural exchange between Americans and Cubans, will get much more difficult. While tourism remained prohibited under Obama, visiting to engage with the Cuban people became easier with this visa. The new rules will require "people-to-people" visitors to travel as part of a group that is sponsored by an educational or cultural organization. A member of that organization must also travel with the group to ensure that visitors are abiding by the rules.
• Americans will be barred from spending money at 180 entities, including Ernest Hemingway's favorite Havana hideaway, the Hotel Ambos Mundos. Also on the list are the jewelry store Coral Negro, the photo shop Photo Service, and two rum factories. Patronizing U.S.-owned hotels and private businesses, including homes listed on Airbnb, will still be allowed.
• The way the U.S. government will find out how Americans spent their money in Cuba remains a bit of a mystery. A senior administration official told the Miami Herald that travelers will be required to keep records of itineraries and expenses, and that those records could be reviewed. But will that keep visitors from buying a Jupiña-brand soft drink on the streets of Havana? Seems unlikely.
• Traveling under the "support for the Cuban people" category will require more of Americans. No longer will it be enough to eat at private restaurants and stay at privately owned hotels. Travelers will be required to keep a "full-time schedule" showing activities that "support contact with the Cuban people, support civil society in Cuba, or promote the Cuban people's independence," the regulations say.
• Airlines and cruise ships that travel to Cuba are unaffected by the changes.
• Travel arrangements that have already been made will be grandfathered in.