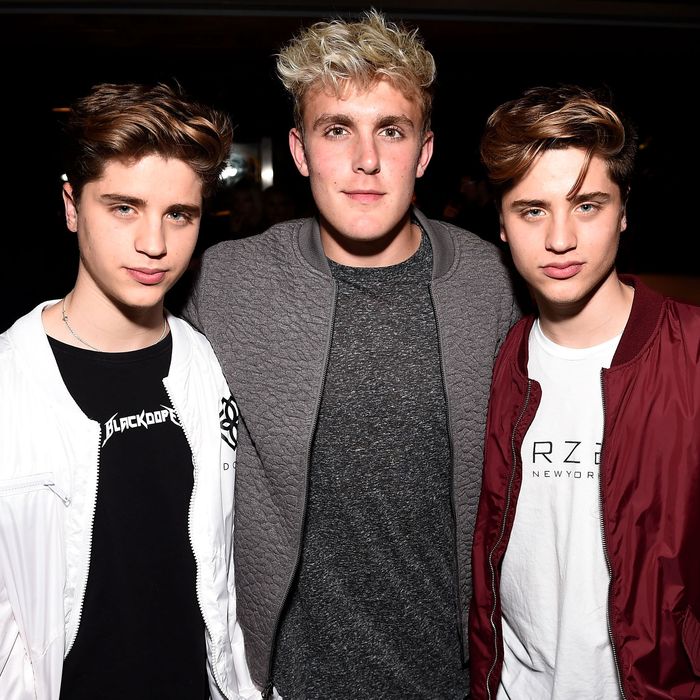 The Martinez brothers and Jake Paul are this week's biggest YouTube beef.
Photo: Matt Winkelmeyer/Getty Images for E! Entertainment
Jake Paul has been called a bully before. By his neighbors, who were none too thrilled with his antics on their street. By his ex-girlfriend, in her Billboard-charting diss track. By a former fifth-grade classmate, who says Paul, well, literally bullied him at school. This week, we can add YouTubers Ivan and Emilio Martinez. The Spanish twins officially quit Team 10 — Paul's social-media incubator — in a new video accusing Paul of rampant bullying while they were part of the group.
The origin story of the Martinez twins varies depending on whom you talk to. If you ask the brothers, it all started when their parents split up when they were 14, leaving Ivan, Emilio, their mother, and their sister with "no money," the two explain in the video: "We were happy … but we had no money." The two turned to social media as an escape and, one day, lo and behold, Jake Paul DM'd them inviting the twins to join him in Los Angeles. "We paid for our flight. We didn't know about Team 10 before that." After that, the brothers came to the United States, lived with Paul and his compatriots, and rocketed to YouTube fame. They eventually left — or started a very dramatic process of quitting — Team 10's house earlier this fall, a move likely related to the same bullying claims the pair made in their most recent video.
In the video, the pair say they were mocked by other Team 10 members when they first arrived, and because they didn't speak much English at the time, they didn't understand it was happening. "You go to somewhere that no one talks Spanish or your language, and you see people in the house laughing, and you don't even know what they're talking about, then you find out they were talking bullshit about you, laughing about you, every single day." The brothers describe living in fear during their eight months in the house, saying they were constantly scared of the many "prank" ways — buckets of cold water, drones, leaf blowers, electric shocks, the list goes on — Paul would wake them up. (It's worth noting, Paul pulls this crap with all members of Team 10, not just the twins.)
Meanwhile, Paul's camp has denied all the allegations in a lengthy statement on Twitter. The statement claims Paul found the twins in Spain in an "unfortunate situation" and paid for them to come to Los Angeles. It goes on to say that Paul funded the twins during their early months in the United States and tried to support them as much as possible when they were deported — the brothers have since sorted out their visas — to Spain this fall. "We all lived together, laughed together and fell out together, but we always sat down and made up like families do," the statement says. "What they said in the video simply isn't true."
Ivan and Emilio's video ends with the promise that if just one person were to like it, they'd spill more tea about Jake Paul. The video currently has a quarter-million likes. Bring it on, boys.