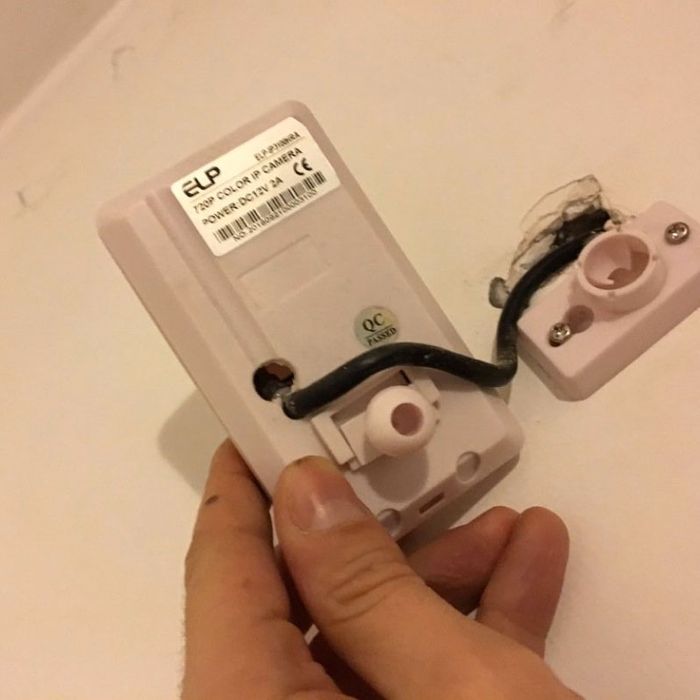 Photo: Jason Scott/via Twitter
Bad news, folks: We're nearing "trend story" levels that Airbnb hosts are installing carefully disguised video cameras in their homes to spy on guests while they're away.
Turns out, this was more than just a tweet — it actually happened. "As soon as we were made aware of this incident, we permanently banned this host from our community and supported our guests with a full refund and reimbursement for expenses incurred," Airbnb spokesperson Jeff Henry told Select All. Unfortunately, this is far from the first time such an incident has occurred.
Last month, an Indiana couple had a similar experience after deciding to take a closer look at a smoke detector located in the master bedroom of their Florida Airbnb. (Which, by the way, had over 40 reviews from other supposedly satisfied guests.) Inside they found a hidden camera pointed directly at their bed, which had apparently been on and recording (in HD quality, no less) since their arrival. A German woman actually sued Airbnb for negligence (among other things) a couple of years ago after finding a wireless camera installed in the living room of her California rental. This case and others led the company to adopt an official electronic surveillance policy for hosts back in November of 2014, which explicitly prohibits the use of any and all surveillance devices in private spaces (like bedrooms, bathrooms, or basically any other place you're likely to be naked), and requires that hosts disclose the presence of all recording equipment used in public spaces on their listing page.
Though that doesn't mean that they're likely to do so. "I bought a camera to spy on you while you watch Netflix" isn't exactly the sort of message most Airbnb hosts are going for these days. And given the whole "hidden" aspect of the hidden camera, it seems pretty likely that most would go unnoticed by guests. Here in the Year of Our Lord 2017, hidden cameras are also pretty damn cheap and can be delivered to your doorstep in just a day or two. (Thanks, Amazon.) A quick Google search revealed a number of "secret spy cameras" and "discreet surveillance cams" easily available for purchase, most of which were under $50, and almost all of which looked like normal, everyday household objects.
So, for the nervous Airbnb aficionado, what is there to do? In short, not much. Yeah, I know that's a lame answer. Sure, you could go open up your favorite shopping platform, search "hidden cameras," memorize each and every last spy alarm clock and secret coat hook on there, and go scour your next Airbnb rental for matches, but do you really think that's going to help? Honestly, the best course of action here is probably just to be more aware of your surroundings next time you rent. (I can hear your cries of lame! from over here, don't worry.) Check to see if anything looks out of place — like a smoke alarm directly over the bed, or a motion detector in only one room — and go from there.