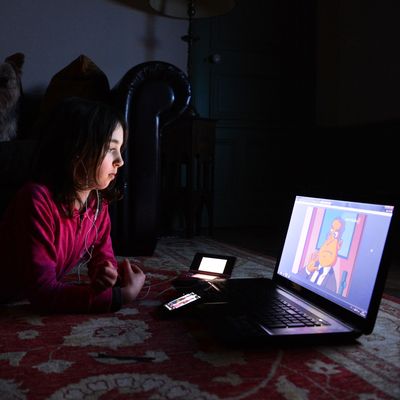 Photo: Alain Jocard/AFP/Getty Images
As the moral panic over YouTube's "disturbing kid content" problem grows, advertisers have paused spending on the video site. Major advertisers like Mars, Adidas, and alcohol conglomerate Diageo have stopped buying ads as parents voice their concerns over sexually explicit comments being left on children's videos, and misleading content on the platform — videos that portray themselves as kid-oriented but are actually much weirder and more unsettling.
Yesterday, Vice News reported that in the hopes of stanching the bleeding, YouTube has killed ads on more than 50,000 channels "masquerading as family-friendly content." That includes more than 2 million videos. In addition, the company "terminated more than 270 accounts and removed over 150,000 videos from our platform in the last week" and "turned off comments on over 625,000 videos targeted by child predators."
So that's good. Will it bring advertisers back? That's unclear. This is the second time in less than a year that prominent spenders have left YouTube over concerns that their products were being featured alongside undesirable content. Prior to this controversy, advertisers fled after discovering they were featured alongside white-supremacist videos. That's the beauty of programmatic ads: You don't have to really think about it, until you're accidentally tied to racists and creeps.