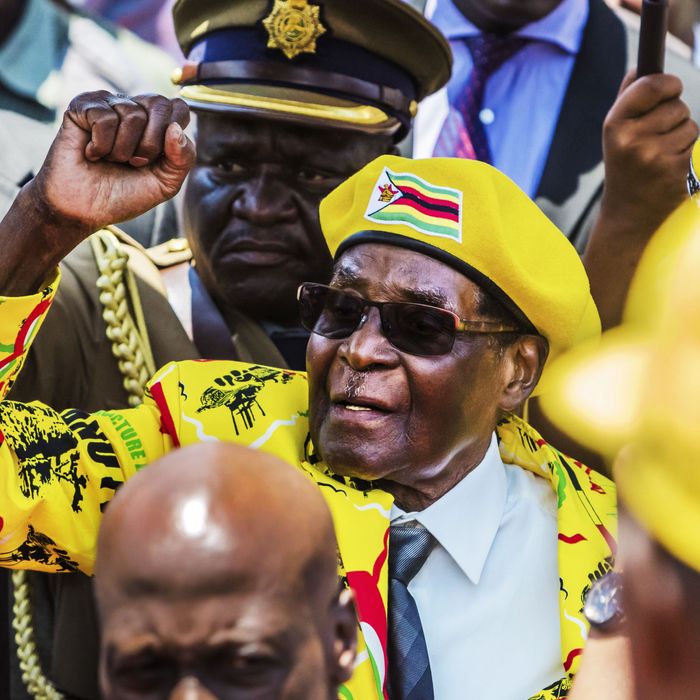 A leader no more.
Photo: Jekesai Njikizana/AFP/Getty Images
Robert Mugabe, the 93-year-old president of Zimbabwe, stepped down on Tuesday, ending the conflict-marked tenure of the world's longest-serving leader. In a letter read by speaker of Parliament Joseph Dudenda, Mugabe wrote that his decision had been made "with immediate effect" for "the welfare of the people of Zimbabwe and the need for a peaceful transfer of power."
Zimbabweans reacted jubilantly to the news, with celebrations taking place on the streets of the capital city Harare and in Parliament.
Over the weekend, Mugabe was expected to announce his resignation in a speech, but held off, making his political fate unclear. The address came days after military forces took Mugabe into custody and seized control of state television in a quasi-coup. This was a response to a crisis set off when Mugabe fired his military-backed vice president, Emmerson Mnangagwa, earlier this month, a move seen as setting the stage for his wife, Grace, to eventually assume power. Mnangagwa fled to South Africa, saying he feared for his safety, but is now expected to assume power in Zimbabwe.
After the military intervention, ZANU-PF, the political party Mugabe had led for decades, expelled him and his wife.
With Mugabe's unwillingness to go quietly, lawmakers had drawn up the impeachment proceedings, which included charges of "inability to perform the functions of the office because of physical or mental incapacity." Mugabe has shown his age in recent years, falling asleep during ceremonies and once delivered the wrong speech to Parliament.
A hero of the African independence movement in the early 1980s, Mugabe ruled his country with an an iron fist over decades. He drew international condemnation for his strongman tactics, which have included allegedly killing thousands of civilians in the '80s, fixing elections, violently driving white farmers from their land, and cracking down on dissent generally. He also helped drive the country into an economic ditch with a series of ill-advised policies.