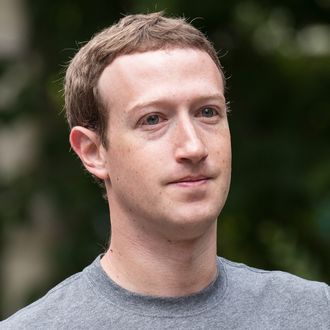 Photo: Drew Angerer/Getty Images
Mark Zuckerberg, CEO of thefacebook.com, is wrapping up his year-long cross-country tour and he's finally ready to talk about what he's learned. He's learned that the country is big and a lot of people live in the country and that community is important. In conversation at the University of Kansas today (broadcast on Facebook Live, duh), Zuckerberg told an audience about how his trip informed his broader mission to have Facebook play a central role in "building community."
He also learned about the opioid crisis roiling the nation. "The biggest surprise by far has been the extent of opioid issues, and it is really saddening to see," he said. He spoke of meeting with victims of opioid addiction, the rate of which has spiked dramatically in the past couple of years.
"You get the sense of how it impacts not just on a health basis but everyone around them in the community," he recalled, mentioning a conversation with Dayton, OH, police officers who responded to 29 overdoses in a single day, and how it strains resources.
"One of the things that struck me is that I don't think we all fully internalize is how this epidemic has affected people's attitudes more broadly on policy issues," he noted. "Counties that swung from Democrat to Republican were those with some of the highest opioid addiction rates." The opioid crisis "is still getting nowhere near the attention that it needs," he added.
While Zuckerberg spoke extensively about his realizations, he had less to say about how he would wield his significant influence and social platform to help solve these problems. Which is fine! It's early days. But in the coming months and years, look for Zuckerberg to take the lessons he learned on his tour and start baking them into the heart of the products he oversees.
You can watch the full talk below.