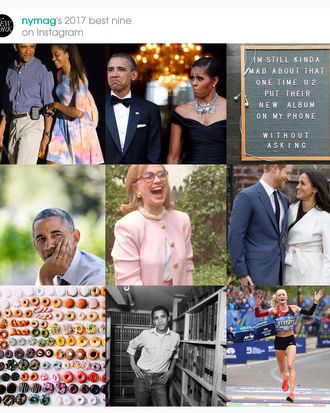 A look at New York Magazine's Instagram Best Nine for 2017.
Against all odds — who thought we'd actually make it to December 2017 — it's once again the time of year when your Instagram feed is about to be inundated with photo collages from your friends. Everybody's favorite Instagram generator, and one-time dating app, is back for 2017. It's still easy to use; all you need to do is input a handle from a public Instagram account — it doesn't even have to be your handle — and the site will generate a collage of your top nine most-liked posts from 2017.
To make yours, start by heading to 2017BestNine. Input your handle into the box reading "Instagram ID" and press "GET." That's pretty much it. I did say this thing was easy enough to use. You'll be given a few collage options to choose from. Option one shows a count of how many posts you had in 2017 and how many likes they received. Option two is just the nine photos without any of that data. If you're looking for a more aesthetically inclined, less I'm bragging here kind of post, you're probably going to want to go with option two. From there, you can share your collage on Facebook and Twitter. If you want to Instagram it, you'll need to save the image to your phone and upload it like you would a regular Instagram post.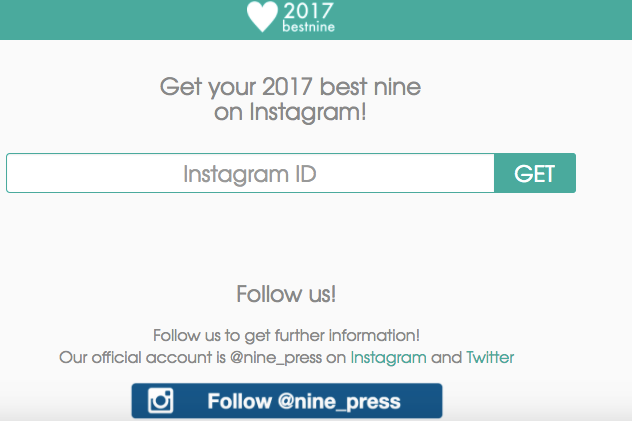 Heads-up: BestNine says it can take up to ten minutes to generate a collage, depending on site traffic. Which should give you plenty of time to contemplate how many of your posts from the last year are depressing as heck. It has, after all, been a very long year.