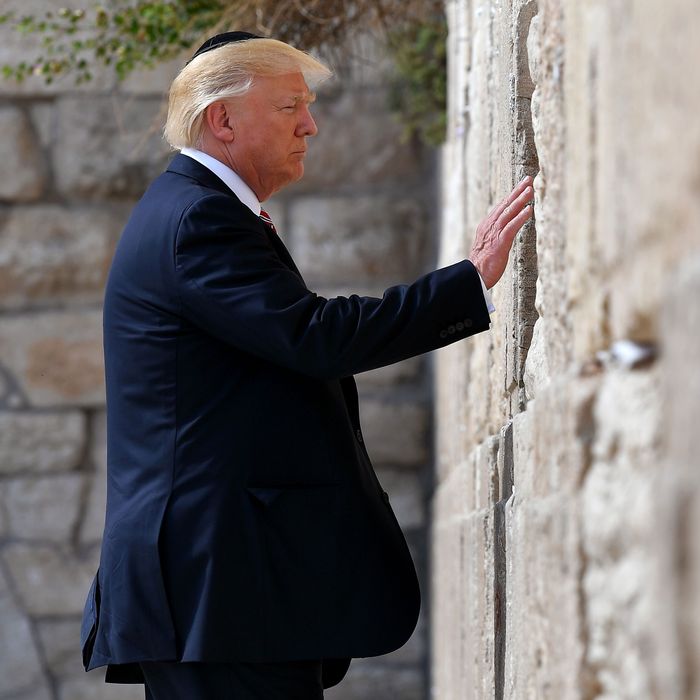 Trump visits the Western Wall.
Photo: MANDEL NGAN/AFP/Getty Images
A new train station next to Israel's Western Wall, one of the holiest sites in Judaism, will be named for President Donald Trump, Israel's transportation minister said Wednesday.
Israel Katz said the honor was inspired after Trump's "historic and brave decision to recognize Jerusalem as the capital of the State of Israel." Trump made the call on December 6, igniting protests across the Middle East and drawing the ire of both ISIS and the United Nations.
The Guardian notes that Katz's plan is likely to also prove controversial, and not just because of whom it's named after.
The Western Wall train proposal is likely to face opposition from the international community, which does not recognise Israeli sovereignty over East Jerusalem and the Old City, which Israel captured in 1967 and later annexed.




The Palestinians seek East Jerusalem and the Old City, home to Muslim, Christian and Jewish holy sites, as capital of a future state.




Digging railway tunnels to the Western Wall would also entail excavating in Jerusalem's Old City, where religious and political sensitivities — as well as layers of archaeological remains from its 3,000-year history — could prove a logistical and legal quagmire.
If there's anyone up to this task, though, it would seem to be Katz, a man whose work on large-scale infrastructure projects has earned him the nickname "The Bulldozer."