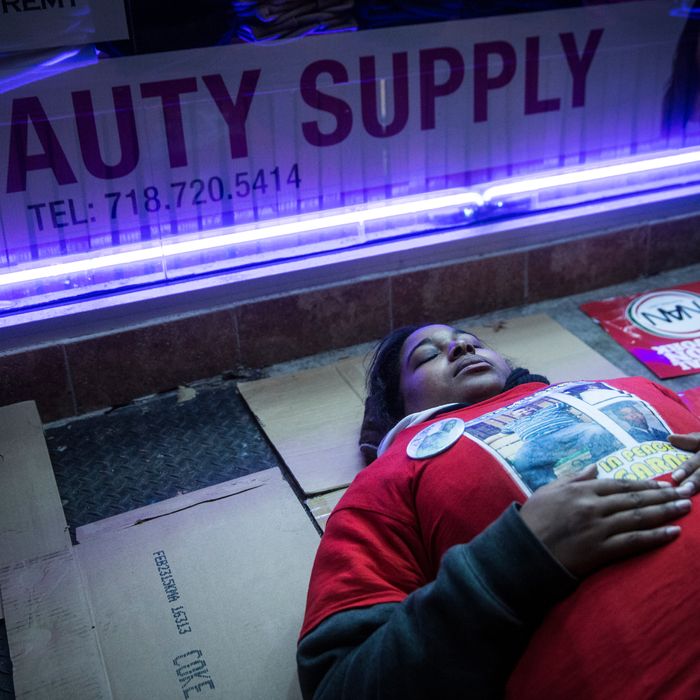 Erica Garner, daughter of Eric Garner, lays down in the spot in Staten Island where her father was killed, part of a December 2014 die-in to protest a grand jury's decision not to indict a police officer involved in Mr. Garner's death.
Photo: Andrew Burton/Getty Images
Activist Erica Garner, who suffered a devastating heart attack last week, has died, her official Twitter account confirmed on Saturday morning:
The 27-year-old became a prominent civil-rights activist after her father, Eric Garner, was killed after being put in a chokehold by a New York City police officer in 2014. His death, which was caught on camera as he repeated the phrase, "I can't breathe," became one of the most important events in the rise of the Black Lives Matter movement.
Erica, his oldest daughter, came to play a major part in that movement, staging frequent "die-ins" at the spot in Staten Island where her father died, making many media appearances, and often marching against police brutality.
"People ask, 'When will you stop marching? What do you want from marching?' He was my father," Garner told NBC News in 2015. "I will always march."
Garner had been placed in a medically induced coma last week following a heart attack triggered by an asthmatic episode, and had already been declared brain dead as a result.
"The only thing I can say is that she was a warrior," Erica's mother, Esaw Snipes, told the New York Times on Saturday. "She fought the good fight. This is just the first fight in 27 years she lost."