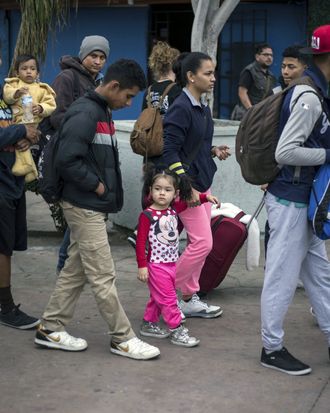 Photo: GUILLERMO ARIAS/AFP/Getty Images
The Trump administration may add some particularly draconian elements to its already harsh approach to immigration. As first reported by the Washington Post, the Department of Homeland Security is considering separating parents and children who are caught entering the United States illegally. Officials say that the potential new policy is intended to discourage families from trying to come to the U.S. via the border with Mexico.
Currently, families taken into custody along the border are either kept together at a DHS detention center or released and given a court date. Under the changes being considered, adults and kids would be sent to separate facilities. White House chief of staff John Kelly previously suggested the idea back when he was head of the DHS, but claimed to have abandoned it after it became clear that it sounded too cruel.
Additionally, the administration might change the protocols for dealing with unaccompanied minors, who are usually attempting to join relatives in the U.S. The law requires the DHS to transfer kids detained while traveling alone to the Department of Health and Human Services, which keeps them in a shelter and works to find a sponsor to house them. ("It's a little-known fact that over half of those who enter illegally are placed with a parent already in the U.S.," said a HHS official.) As of now, the HHS generally doesn't share the background information of the children's sponsors with Immigrations and Customs Enforcement. But, with the administration's proposed measures, ICE could be informed of the sponsors' immigration status, which would almost certainly lead to to the arrests of undocumented people who try to retrieve kids from HHS facilities. This would also likely affect children taken from their parents after being apprehended as a family, as they will end up with the HHS.
Sources told the New York Times that the White House and ICE are in favor of the policy changes, though DHS secretary Kirstjen Nielsen has yet to sign off on it.