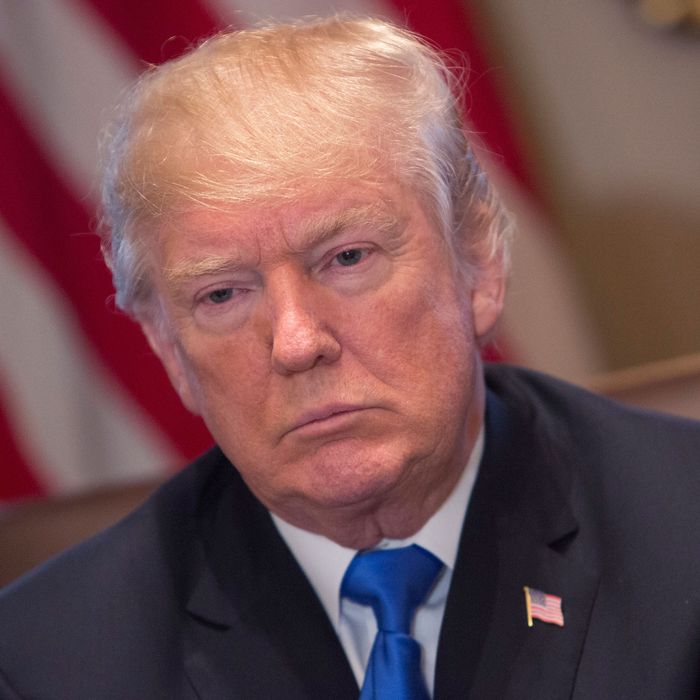 Merry Christmas?
Photo: Chris Kleponis-Pool/Getty Images
As poll after poll shows that Republican face an increasingly forbidding electoral environment heading into 2018, President Trump's advisers are doing what they can to warn their boss — whose historic unpopularity is driving the Democratic momentum.
Several reports published Thursday evening paint a picture of a Trump administration scrambling to prepare for what may be a year of Republican carnage.
Speaker of the House Paul Ryan has warned that more GOP lawmakers will retire instead of facing tough challenges next year. And Senate majority leader Mitch McConnell has said privately that, despite what once seemed to be a favorable map for Republicans, the GOP is in danger of losing the upper chamber in a wave election.
Politico, the New York Times, and the Washington Post all reported on a tense White House meeting on Wednesday, just hours after Congress passed its momentous tax bill. Former campaign manager Corey Lewandowski got into a heated exchange with top Trump advisers including Hope Hicks and Kellyanne Conway, accusing the Republican National Committee of serving Trump's interests poorly and taking particular aim at political director Bill Stepien. The Times reported that the president seemed "receptive to the argument."
According to Politico, Trump is being kept abreast of the latest grim trend lines:
During political briefing sessions, top aides highlight positive developments — but also more concerning ones, such as his declining numbers among well-educated voters and higher earners. He has peppered advisers with questions about his approval ratings, and about whether he is getting enough credit for his accomplishments.
But another anecdote from the piece offers a revealing glance at how Trump's political instincts may end up hurting his party's chances of avoiding a brutal 2018.
Weeks before the Alabama special Senate election, RNC chair Ronna Romney McDaniel warned Trump's Chief of Staff John Kelly in a memo about Republicans' already-tattered reputation with women, worrying that a presidential endorsement of alleged sexual predator Roy Moore would only exacerbate the problem. But Trump disregarded those warnings, giving Moore his full-throated endorsement. Democrat Doug Jones defeated him in a major embarrassment for Republicans.
Trump, of course, is not known for heeding the advice of political professionals. He followed his unorthodox instincts all the way to the presidency last year, and it's unlikely that, even if his unpopularity is dragging down his party, he'll step aside and let prominent down-ballot races play out quietly. This need for the spotlight is one of Democrats' great advantages heading into 2018. Between his unstoppable egoism and his consistent unpopularity, Trump may end up costing his party control of Congress.