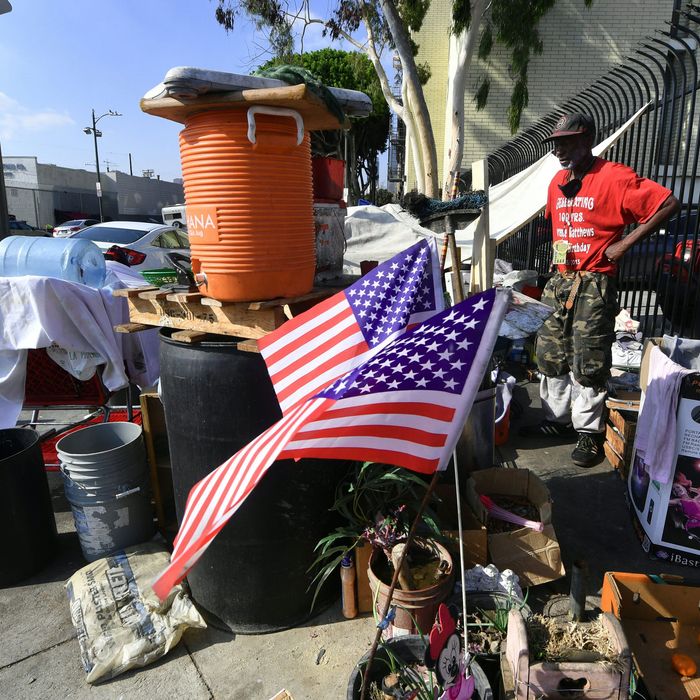 Homeless veteran Kendrick Bailey in Los Angeles.
Photo: Frederic J. Brown/AFP/Getty Images
Outrage from veterans' affairs groups and a bipartisan group of U.S. senators has the Department of Veterans Affairs backtracking on plans to reallocate $460 million currently used to house homeless veterans.
Under the threatened program, known as HUD-VASH, the Department of Housing and Urban Development provides vouchers to the most vulnerable homeless veterans, while the VA assists with case management. The Trump administration proposed reallocating the money and sending it to local VA hospitals, where officials would be required to spend it on reducing homelessness.
"While some may think Washington bureaucrats are more qualified to make decisions about local VA issues than local VA leaders, we wholeheartedly disagree," VA spokesman Curt Cashour told the Washington Post.
But the plan inspired a backlash. Politico reports that "anger exploded" during a phone call with the VA and advocacy groups, who were arguing against the move. "There was a big effort to end homelessness, and this indicates we as a nation are taking our foot off the gas pedal," Leon Winstone, whose group Swords to Plowshares works with Bay Area veterans, told the Post. Advocates said they were concerned about removing experienced caseworkers from the program and worried that local VA officials wouldn't allocate all the money to fighting homelessness.
Lawmakers were wary of the move too. All 14 members of the Senate Appropriations subcommittee on Military Construction, Veterans Affairs, and Related Agencies signed a letter last month expressing "serious concern" over the reallocation of the funding.
On Wednesday evening, VA Secretary David Shulkin responded to the outcry. "There will be absolutely no change in the funding to support our homeless programs," he said in a statement. Rather than cutting the vouchers and sending the money to local officials, Shulkin said the VA will "solicit input" from them.
The Trump administration's attempt to realign the program comes at the worst possible time. On Wednesday, HUD announced that the number of homeless veterans has risen for the first time since 2010.