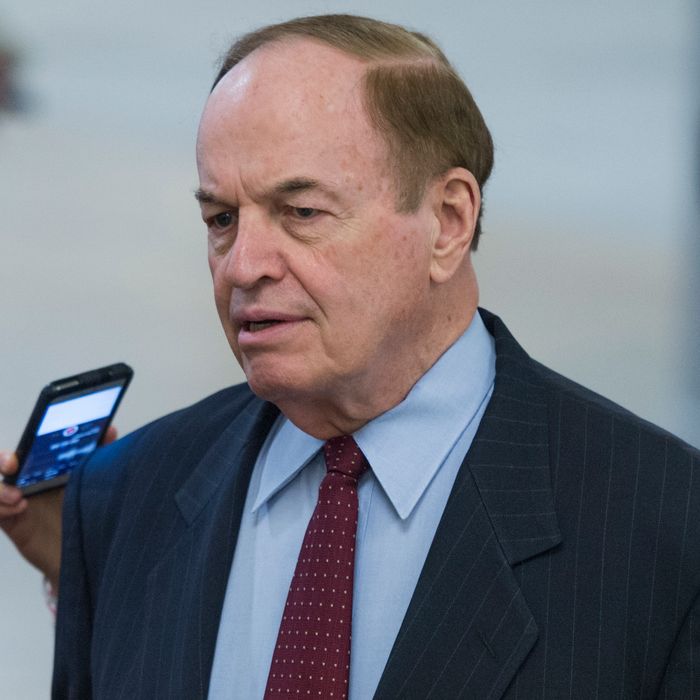 Richard Shelby.
Photo: Tom Williams/AP
As Alabama's special Senate election finally approaches, most state Republicans have circled the wagons around Roy Moore, the alleged sexual predator and twice-disbarred former judge who maintains a polling-average lead against Democrat Doug Jones in the highly unpredictable race.
But not Alabama senator Richard Shelby.
The 83-year-old told CNN's Jake Tapper on Sunday morning that he couldn't bring himself to pull the lever for Moore, and has already voted for a write-in candidate.
"I couldn't vote for Roy Moore, I didn't vote for Roy Moore, but I wrote in a distinguished Republican name," he said.
He went on to say that while he understood the importance of retaining the Senate seat for Republicans, there were "so many accusations" against Moore that it had "reached a tipping point," and that "when it got to the 14-year-old's story, that was enough for me."
This isn't the first time Shelby has publicly renounced Moore. But it is, to say the least, very unusual to choose to appear on television to disavow a member of one's own party two days before an election. And Shelby was pointedly distinguishing himself from President Trump, who remains popular in Alabama. The president has enthusiastically endorsed Moore in recent days, on Twitter and at a Florida rally on Friday. He even recorded a robocall for the candidate, which is going out to voters on Monday.
Other national Republicans initially denounced Moore after the allegations of his inappropriate relationships with teenage girls were first published, but have since softened their positions.
Moore, meanwhile, has all but disappeared from the campaign trail two days before the election.