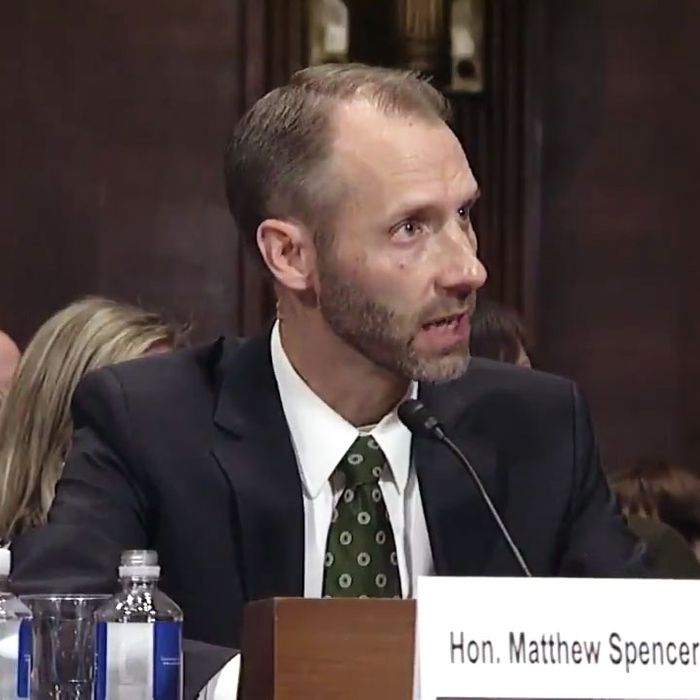 What is this thing you call "law"?
Photo: Twitter/Sheldon Whitehouse
The Trump administration's penchant for nominating frighteningly unsuitable people to fill powerful posts was on vivid display Thursday night.
In a widely circulated clip (tweeted by a Democratic senator), Republican John Kennedy questions Trump district judge nominee Matthew Spencer Petersen about basic tenets of the law — and is met, repeatedly, with bafflement.
Senator Kennedy starts out by asking if any of an assembled group of judges had never tried a case to verdict. Spencer raises his hand.
"Have you ever tried a jury trial?" Kennedy asks.
"I have not," Petersen responds.
"Civil?" Kennedy asks.
"No," Petersen responds.
"Criminal?" Kennedy asks.
"No," Petersen responds.
"Bench?" Kennedy asks.
"No," Petersen responds.
"State or federal court?" Kennedy asks.
"I have not," Petersen responds.
Things get worse from there. Beyond his total lack of relevant experience, a clearly rattled Petersen, who is currently a commissioner on the Federal Election Commission, is unable to answer basic questions involving the mechanics of trials. For instance, he can't define a motion in limine, an elementary judicial concept. After several such whiffs, Petersen tells Kennedy that "I understand the challenge ahead of me if I were fortunate enough to become a district court judge." Kennedy does not look impressed.
Petersen's dearth of knowledge isn't much of an outlier among Trump's nominees. During his 11 months in office, Trump has nominated four candidates deemed "unqualified" by the American Bar Association's Standing Committee of the Federal Judiciary, which has been evaluating judges since the 1950s. There were seven such nominees during eight years of the George W. Bush administration, and zero during President Obama's two terms.
This isn't such a big deal to a party that has become proudly anti-expertise in its philosophy; Republicans have responded, for the most part, by simply accusing the ABA of bias and voting for the nominees anyway. (Blithe ignorance, after all, is a calling card for many of Trump's Cabinet picks, too: See Betsy DeVos, Ben Carson, and Rick Perry, among others.)
Senator Kennedy is one of the few Republicans who has expressed reservations. In November, he expressed disdain for the highest-profile of Trump's loony picks, former ghost hunter and Ku Klux Klan defender Brett Talley. "It is embarrassing," Kennedy said. "And I think the president of the United States is getting some very, very bad advice."
This week, Kennedy gained an ally in Senate Judiciary Committee chairman Chuck Grassley, who announced that Talley and another controversial nominee who once called transgender children "Satan's plan" would not be confirmed.
But small setbacks aside, Trump's campaign to stack the bench with far-right judges has been one of the few clear successes of his presidency. As an example of his efficiency, the senate has confirmed 12 of his judges to circuit courts — one step below the Supreme Court — which swamps the three confirmed in the first year of President Obama's first term. And, of course, there's newly minted Supreme Court Justice Neal Gorsuch.
And just because one ghost hunter won't be ascending to the federal judgeship, it doesn't mean the Senate is raising its standards all that much. On Tuesday, it confirmed Leonard Steven Grasz, one of the other nominees rated "unqualified" by the ABA, to the Eighth U.S. Circuit Court of Appeals. He once wrote that Roe v. Wade decision amounted to "moral bankruptcy."