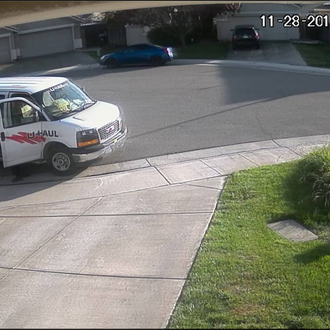 An Amazon customer got an unexpected package from an Amazon delivery driver this week. Sacramento resident Nemy Bautista posted a photo to Facebook on Tuesday, writing: "Amazon.com Why is your driver squatting in-front of my house? Let me give you a hint … he/she is not tying their shoes. I have it on video!"
A local ABC station was able to view the video, though it hasn't been released to the public.
The delivery person was part of Amazon's extensive network of third-party delivery drivers, though it's not clear if the driver was part of Amazon's Flex program, which hires people individually to deliver packages for Amazon. Smaller third-party delivery contractors are increasingly delivering packages for Amazon as its logistic demands have quickly outstripped what FedEx, UPS, and the USPS can deliver. Amazon currently doesn't allow customers to select their preferred delivery company.
In a statement to KCRA-TV, the company said, "This does not reflect the high standards we have for delivery service providers. This individual is no longer delivering Amazon packages and we're in direct communication with the customer." Bautista says an Amazon representative arrived at his house later that evening to clean up the mess, though the rep had to borrow a bag.
Amazon also sent Bautista an Amazon gift card. No word on how much it was for.