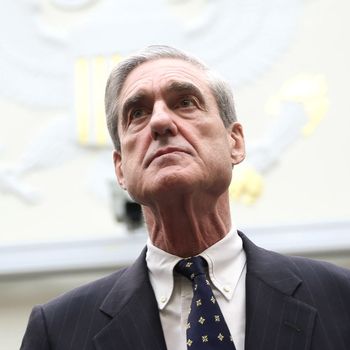 But their emails.
Photo: Alex Wong/Getty Images
A lawyer representing President Trump's transition team has accused special counsel Robert Mueller of unlawfully obtaining tens of thousands of private emails from the accounts of at least 12 top transition officials — reportedly including Jared Kushner. But the move may just be a halfhearted attempt to discredit Mueller and stave off his investigation into Russia's 2016 election meddling.
In a letter sent Saturday to House and Senate oversight committees, Trump for America lawyer Kory Langhofer claimed that Mueller's office, by obtaining the emails and using them for the investigation, potentially violated attorney-client privileges and the unreasonable search and seizure protections provided by the Fourth Amendment. A source told Politico that Langhofer is also planning on filing a formal letter to special counsel Mueller.
Mueller's team apparently obtained the emails from the General Services Administration, the government agency that handles the official transition email accounts. According to Langhofer, Mueller's office has "made extensive use of the materials," some of which may have been privileged communications. The attorney also blamed "career staff" at the GSA for unlawfully providing the information, and complained that some of the materials Mueller obtained were subsequently leaked to the press "by unknown persons."
According to Axios, the emails "are said to include sensitive exchanges on matters that include potential appointments, gossip about the views of particular senators involved in the confirmation process, speculation about vulnerabilities of Trump nominees, strategizing about press statements, and policy planning on everything from war to taxes."
Transition-team members apparently only learned Mueller had all the emails when the messages came up in questioning. As the AP points out, it's not clear how valuable the messages might be to Mueller's team, since transition officials used other emails accounts in addition to their official ones.
Mueller's office dismissed Langhofer's claim late Saturday. "When we have obtained emails in the course of our ongoing criminal investigation, we have secured either the account owner's consent or appropriate criminal process," spokesperson Peter Carr said in a rare public statement.
A GSA official is also pushing back on the accusations, noting that the Trump transition-team members knew what they were getting into, unless they didn't read the terms and conditions. GSA deputy counsel Lenny Loewentritt told BuzzFeed News on Saturday that the Trump transition team was informed that, by using GSA devices, materials exchanged on them "would not be held back in any law enforcement [actions]":
Loewentritt read to BuzzFeed News a series of agreements that anyone had to agree to when using GSA materials during the transition, including that there could be monitoring and auditing of devices and that, "Therefore, no expectation of privacy can be assumed."




Loewentritt told BuzzFeed News that the GSA initially "suggested a warrant or subpoena" for the materials, but that the Special Counsel's Office determined the letter route was sufficient.
Unimpressed former Obama transition officials weighed in on Sunday, too:
Democratic lawmakers are already questioning the purpose of Langhofer's accusations, worried that it may be an attempt to lay out a rationale for firing Mueller and ending the investigation.
White House special counsel Ty Cobb tried to dismiss those concerns again on Saturday, rejecting rumors that Trump was planning on firing Mueller just before Christmas and reiterating that such a move was not even under consideration. White House legislative director Marc Short made a similar claim on Sunday.
However, according to former federal prosecutor Renato Mariotti, Langhofer's letter was indeed a "weak" attempt to discredit Mueller. In a series of tweets on Saturday, Mariotti pointed out that Langhofer didn't actually claim the emails contained privileged communications, just that the messages were "susceptible to privilege claims." Mariotti also noted that sending the letter to Congress instead of Mueller was an act of political theater.
Mariotti speculated that the reason Mueller may have obtained the emails from the GSA instead of from transition lawyers was because Mueller didn't trust Trump's team to hand over everything they should have. The bottom line:
If Mueller didn't follow the law, a court would suppress the evidence so it couldn't be used. The reason Trump's lawyers are writing letters to Congress instead of Mueller or a court is because their legal arguments have no merit.
We don't yet know how important the emails have been to Mueller's investigation, but fired national security adviser Michael Flynn, who is one of the central Trumpworld figures under investigation and who pleaded guilty to making false statements to federal officers on December 1, was one of the Trump officials who used a transition email account.