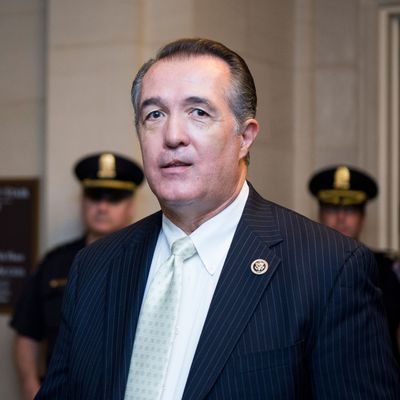 Republican representative Trent Franks was apparently pushed into resigning by Speaker Paul Ryan for some sort of discussion of birth surrogacy with members of his staff — or so he says.
Photo: Bill Clark/CQ-Roll Call,Inc.
When word got around this afternoon that Representative Trent Franks (R-AZ) was about to resign for "inappropriate behavior," it was generally assumed it involved sexual harassment, abuse, assault, or some other misconduct toward women. It was, after all, happening the same day Senator Al Franken resigned from the Senate over allegations of sexual misconduct (which he denied, but admitted he could not overcome). With reports of widespread sexual harassment on the Hill lurking just beneath the surface, it seemed appropriate that a House Republican should join a Senate Democrat in disgrace. In addition, as Laurie Roberts of the Arizona Republic reported when the news broke, there had been rumors about the fiery right-wing culture warrior for some time:
I'd say I'm shocked, but really, I'm not. And I would guess no one in Arizona who is politically active is all that shocked either.




Rumors have swirled for years about Franks' extracurricular activities.




"I heard rumors of these types of problems in the past," longtime Republican strategist Chuck Coughlin told me. "And in today's society it doesn't come as a big surprise anymore."
Some figured a sexual skeleton in Franks's closet might explain his abandonment of a 2012 Senate bid.
When Franks finally made his official announcement (after being surrounded on the House floor in a "prayer circle" by some of his fellow hard-core cultural conservatives), the case left the world of humdrum sex charges and entered something of a twilight zone:
I have recently learned that the Ethics Committee is reviewing an inquiry regarding my discussion of surrogacy with two previous female subordinates, making each feel uncomfortable. I deeply regret that my discussion of this option and process in the workplace caused distress.
In the rest of the statement, Franks described his and his wife's use of surrogates on two separate occasions to have children, and their desire to do so again. It's entirely unclear what about a "discussion" of the issue with female subordinates would make it so highly offensive. But it must have been, and we don't have to rely on Franks's characterization of his misconduct to figure that out. Apparently Speaker Paul Ryan was horrified by the complaints to the Ethics Committee and told Franks last week he needed to resign. That probably didn't happen because Franks was obsessed with the surrogacy process and was chatting about it with some oversensitive staffers. So Karen Tumulty jumped to the logical conclusion:
The Guardian's Lauren Gambino thought so, too:
The Arizona congressman Trent Franks has announced he will resign from Congress at the end of January after asking female staffers to be surrogates for his child.
Presumably, the full story will come out before long.
There is actually something congruent, if not incriminating, about a man like Franks, an anti-abortion zealot who once argued that rape didn't very frequently cause pregnancies (suggesting that pregnant rape victims are lying, of course), acting like one of the lordly theocratic impregnators depicted in The Handmaid's Tale. Whatever he did, the self-justifying nature of his half-apology does not wear well on someone who is supposedly so godly:
[I]n the midst of this current cultural and media climate, I am deeply convinced I would be unable to complete a fair House Ethics investigation before distorted and sensationalized versions of this story would put me, my family, my staff, and my noble colleagues in the House of Representatives through hyperbolized public excoriation. Rather than allow a sensationalized trial by media damage those things I love most, this morning I notified House leadership that I will be leaving Congress as of January 31st, 2018.
It's hard to image how "this story," could be "distorted and sensationalized" more than it already is by its bizarre implausibility. But then again, Trent Franks once ran the Office of Children for disgraced and impeached Arizona governor Evan Mecham. His idea of appropriate conversations about kids may not be like thine or mine.