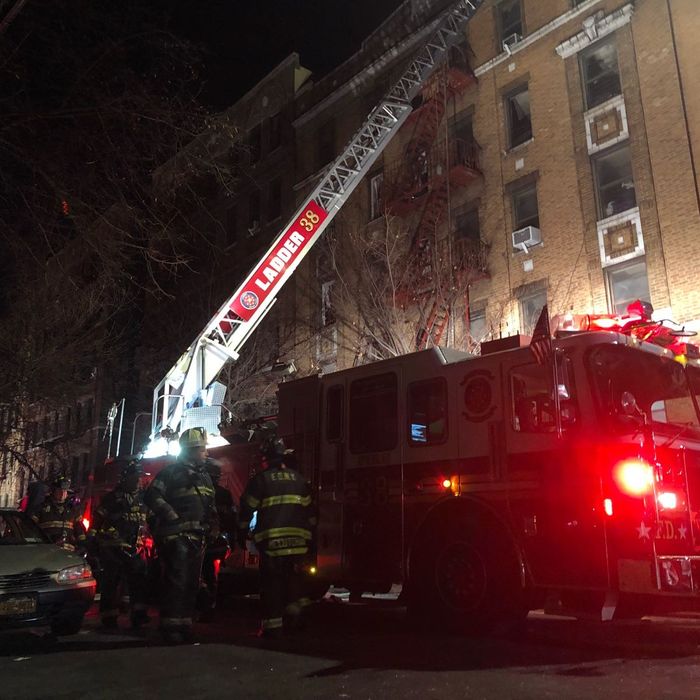 FDNY responds to the fire at 2363 Prospect Avenue in the Bronx.
Photo: Anadolu Agency/Getty Images
A fire tore through an apartment building in the Bronx on Thursday night, leaving at least 12 people dead, including at least three young children. Four people were critically injured and two sustained non-life-threatening injuries.
"This will rank as one of the worst losses of life to a fire in many, many years," New York mayor Bill de Blasio said during a press conference. "We may lose others as well."
The FDNY said that the fire broke out shortly before 7 p.m. on the first floor of a five-story building located at 2363 Prospect Avenue in Belmont, which is near Fordham University and the Bronx Zoo.
On Friday morning, New York City officials said that the fire began when a 3-year-old child was playing with burners on a stove in a kitchen on the first floor. The fire then spread through the building via a stairway, which "acted like a chimney" for the flames.
"What we think at this point is that it unfortunately emanated from an accident, a young child playing with a stove on the first floor of the building," Mayor de Blasio said earlier during his weekly radio show.
The fire department arrived within minutes, and eventually more than 160 firefighters were on the scene. Within an hour, the blaze had grown to a four-alarm fire. It was brought under control around 9 p.m.
The dead included children ages 1, 2, and 7, as well as four men and four women, and an unidentified boy.
One resident, who would not give her name, told the New York Times that she escaped the fire with her daughter and two children from a neighbor's family, but other children were left behind. "I had one on my front and one on my back," she said, crying. "I couldn't carry the rest of them."
Luz Hernandez, another resident, said she smelled burning rubber in her fourth-floor apartment, and a short time later her home was filled with smoke that made the room pitch-black. She fled with her husband and two sons, 11 and 16, down the fire escape.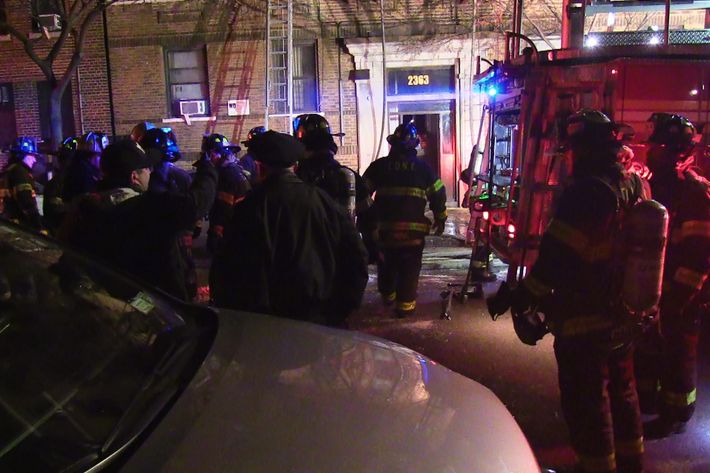 At least 12 people were rescued from the building. The Red Cross was on the scene assisting residents driven out into the frigid street, and a nearby school offered temporary housing.
The blaze is the deadliest in New York City since a fire at the Happy Land social club killed 87 people in 1990. A decade ago in the Bronx, nine children and one adult died in a fire started by an overheated cord to a space heater.