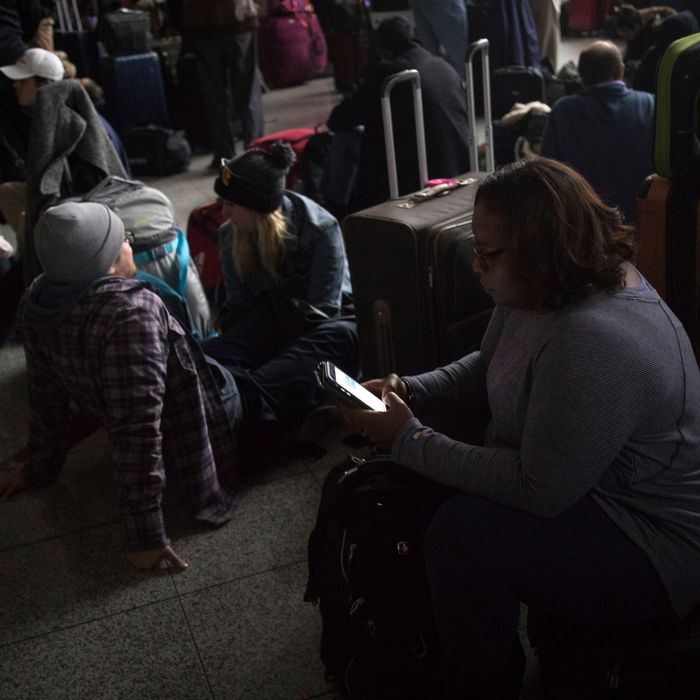 Passengers wait for the lights to come back on at Hartsfield-Jackson International Airport on Sunday.
Photo: Steve Schaefer/Atlanta Journal-Constitution via AP
Atlanta's Hartsfield-Jackson International Airport, the busiest in the nation, suffered a massive power outage on Sunday, stranding thousands of passengers across dark terminals and in as many as 100 planes stuck on the tarmac. The cancellation of more than 1,000 flights in and out of Atlanta could snarl air travel for days as we head into the Christmas rush.
The outage started around 1:o0 p.m., and ended just before midnight. It was caused by a fire in a Georgia Power underground electrical facility, according to Atlanta Mayor Kasim Reed. The intense flames damaged a "redundant system" that should have provided backup power, and prevented Georgia Power crews from immediately accessing the tunnels to extinguish the fire and start working on repairs. It's still unclear what started the fire, but it doesn't appear that it was set deliberately.
"We certainly understand that the outage has caused frustration and anger and we are doing everything that we can to get folks back home right away," Reed said on Sunday night.
The Federal Aviation Administration declared a ground stop at the airport, and at least 1,173 flights were canceled. Some 80 to 100 planes got stuck on the tarmac, as powerless gates became unusable. Southwest and Delta Airlines — which use the airport as their largest hubs — both told ABC News that they were beginning to deplane passengers by having them slide down emergency airstairs. Some passengers inside the airport had to use their mobile-phone flashlights to get around, while passengers on the disabled SkyTrain rail system had to be rescued by firefighters. There have been no reported injuries so far.
"There were a few emergency lights on, but it was really dark — felt totally apocalyptic," Heather Kerwin, who was en route to New York, told CNN. "I decided to get the hell out of there."
Police began evacuating people from the crowded airport, and later the city opened the Georgia International Convention Center and offered free shuttles for stranded passengers who needed a place to stay overnight.
Hartsfield-Jackson is one of the busiest airports in the world, serving an average of 2,500 flights and 275,000 passengers on any given day. Mayor Reed estimated that 30,000 people were affected by the outage on Sunday, and the airport's problems will undoubtedly cause ripple effects throughout the air-transit system.
Below are some images and videos of the bizarre scene: