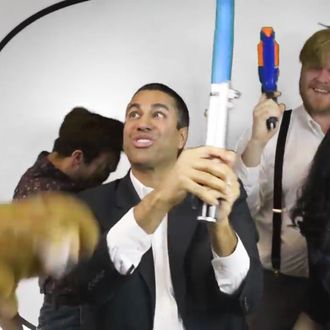 Ugh.
Photo: The Daily Caller
Wednesday night, shortly before dismantling net neutrality, Federal Communications Commission chairman Ajit Pai appeared in an absolutely awful piece of "viral" propaganda entitled "7 Things You Can Still Do on the Internet After Net Neutrality." The video shows Pai taking selfies with dogs, Instagramming a very disgusting looking bowl of "food," and doing the Harlem Shake with would-be Pizzagate propagator Martina Markota.
Musician and producer Harry Rodrigues — who you probably know as Baauer — had a serious problem with this. (Beyond, you know, the abject horror of watching the cringeworthy video.) Because he created (and, thus, owns the rights to) Harlem Shake.
"The use of my song in this video obviously comes as a surprise to me as it was just brought to my attention," Rodrigues said in a statement to Billboard Dance. "I want to be clear that it was used completely without my consent or council. My team and I are currently exploring every single avenue available to get it taken down. I support Net Neutrality like the vast majority of this country and am appalled to be associated with its repeal in anyway."
The artist Diplo brought Baauer's attention to the video via a tweet Thursday morning.
In response, Baauer tweeted, "I'm taking action. Whatever I can do to stop this loser."
Mad Decent, Baauer's record label, stated that "neither Mad Decent nor Baauer approved this use nor do we approve of the message contained therein. We have issued a takedown [and] will pursue further legal action if it is not removed."
As of Friday afternoon, the video has been taken off of YouTube, but is still available on the Daily Caller's website.