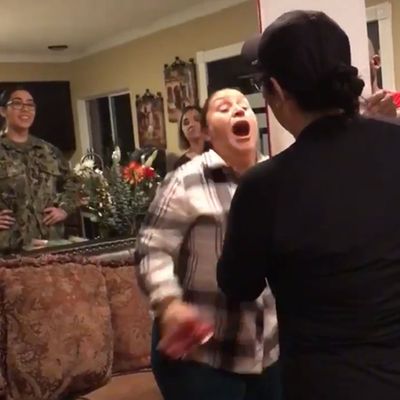 Will you ever experience as much emotion as this woman?
Feeling a bit burned out from the Yuletide cheer? Suffering from a little December dysphoria? Well, lucky for you the internet (which is generally bad) is currently flooded with a bunch of videos of happy people experiencing things that make them, well, happy. Here are some of the best ones:
This mom was overjoyed to receive a stuffed bear from London — like, absolutely over the moon about it — however, little did she know the real gift was yet to come …
In this video, a mom gets a mirror for Christmas, however, what she sees in it (spoiler alert: it's her daughter, back early from military service) is the real gift.
In the same vein, this sailor surprised his mom by coming home for Christmas. The video starts right as he walks in the door, so you just get the good stuff (which in this case means a mom literally wailing with happiness) almost immediately.
There are a lot of members of the U.S. military surprising their moms around the holidays, apparently, but this video deserves a shout-out for its use of painfully heartwarming background music and multiple cameramen.
We have now left the Heartwarming Homecoming category and moved on to the Sad Yet Moving. Please be advised that this means the Zone of Uncontrollable Tears awaits.
Fair warning: This one is just gonna mess you up. It features two kids with a dead dad, teddy bears, and tears. Need I say more?
This kid PAYS OFF HIS PARENTS' FREAKING HOUSE, because Christmas miracles are real apparently (so long as you're insanely rich, of course).
Or so long as you're a famous baseball player …
And last but not least, please enjoy this mom's incredibly over-the-top reaction to receiving a kitten for Christmas.
You may now return to your regularly scheduled bout of anhedonia and sorrow.