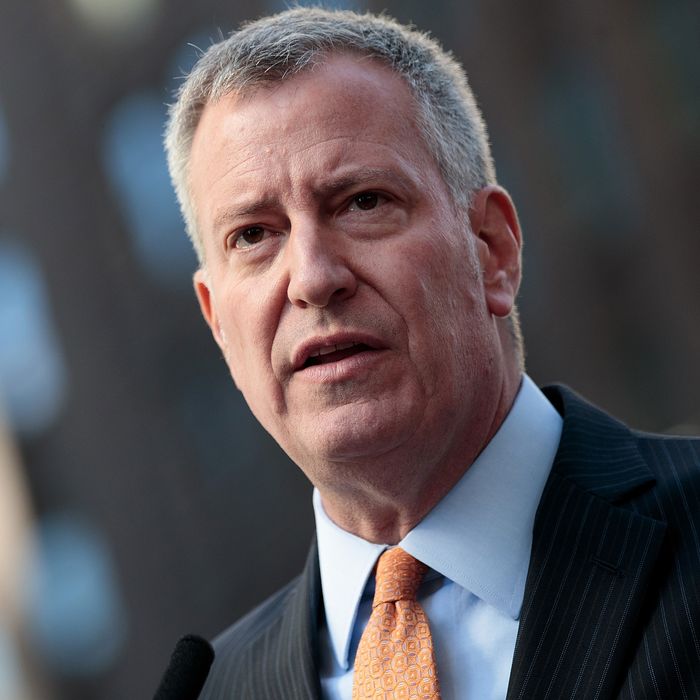 Bill de Blasio.
Photo: Drew Angerer/Getty Images
While he has long demonstrated an interest in building a national profile, New York City mayor Bill de Blasio has repeatedly denied that he intends to run for president. Still, Tuesday found de Blasio in Iowa, which is a place that people who are thinking about running for president tend to visit. (It's not his first trip to the state.)
De Blasio, who was very easily reelected in November, was in Des Moines to give a speech at a fundraiser for the organization Progress Iowa. The New York Times reports that the mayor's talk focused on the theme of moving the Democratic Party to the left. He also spoke about his progressive accomplishments in New York, including universal prekindergarten and his effort to expand access to mental health care.
De Blasio wasn't the only New Yorker in town. Around a dozen officers from the city's largest police union, the Patrolmen's Benevolent Association, traveled to Des Moines to protest at the mayor's appearance. The PBA and de Blasio have clashed frequently throughout his mayoralty, with the relationship reaching a low point in 2014, when the union encouraged members to turn their backs on him at the funerals of cops killed in the line of duty. They're currently engaged in stalled contract talks. "Wherever he goes, we're going to go," said a PBA representative. (Meanwhile, the Transport Workers Union, which has taken Governor Andrew Cuomo's side in the fight over who to blame for the awful state of New York's subways, paid for a full-page ad in the Des Moines Register declaring that "Phony Bill is no Bernie Sanders!") Of the demonstrators, a de Blasio spokesperson said, "We're more than fine with their protests and wish them safe travels."
Before his speech, de Blasio told reporters, "This is what I feel called to do, and I'm going to do this kind of thing wherever possible, whenever possible." When asked whether his time would be better spent focusing on things in New York, he said, "I can walk and chew gum at the same time. I can do my job as mayor of the city and still work on my core beliefs." For the record, he also said, "No, I'm not running for president."