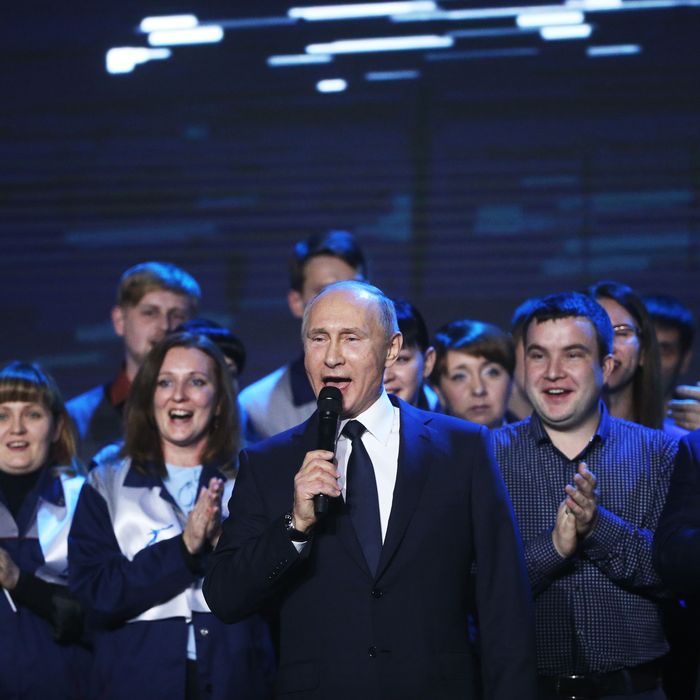 Vladimir Putin tells delighted automotive workers that he will indeed run for another six-year term as president of Russia.
Photo: Mikhail Svetlov/Getty Images
In a shocker, the de facto ruler of Russia, Vladimir Putin, has announced he will offer himself for another six-year term as president in another election where serious opposition will not be tolerated.
"I am sure we will be very successful" when the balloting is held next March, Putin said in announcing his candidacy. There's no question about that:
"According to a recent poll by the independent Levada Center, 53 percent of Russians would vote for Putin, with his closest rival, nationalist Vladimir Zhirinovsky, getting 4 percent," NPR's Lucian Kim reports from Moscow. "Just 1 percent would vote for opposition leader Alexei Navalny, who is expected not be registered as a candidate anyway. Twenty-five percent said they didn't know whether they would vote or for whom; another 11 percent said they wouldn't vote at all."
Despite the apparent voter apathy, a 49-point lead is a pretty good cushion for Putin, and that's without taking into account the, er, resources he might bring to bear if a real opponent emerged.
The timing of the announcement, a day after Russian athletes were banned from the 2018 Winter Olympics over a widespread doping scandal, is interesting. Maybe the Boss decided his candidacy would be a tonic for his increasingly isolated nation:
"Vladimir Putin is a politician for whom it's not just the result that's important but the sensation from the campaign," said Konstantin Kostin, a former senior Kremlin official who now runs a think tank that consults the leadership. "It will determine much of what he does."
The one source of controversy over Putin's candidacy would appear to be the question of whether and when he will eclipse Josef Stalin as having the longest-serving period of unquestioned power in Moscow. Putin has been the dominant figure in Russia since his first election as president in 1999 (he was prime minister from 2008 until 2012, but no one doubted who was in charge). By one reckoning, Stalin ruled his country from the mid-1920s until his death in 1953, a stretch of nearly 30 years. By another, though, his rule began in 1929, when his last rival, Nikolai Bukharin, was expelled from the Politburo. According to that standard, Putin's reign will outstrip that of the Great Helmsman before his next term expires in 2024. We should know by then if his list of nationalist accomplishments will ultimately include subverting the U.S. elections of 2016.