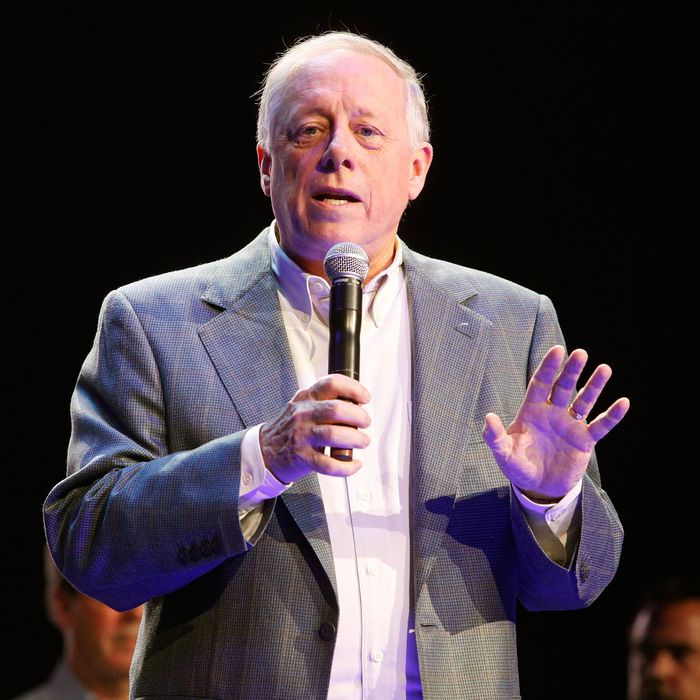 Former Tennessee governor and Nashville mayor Phil Bredesen makes the race to succeed Bob Corker a real, if still difficult, pickup opportunity for Democrats.
Photo: Ed Rode/Nashville Rising/Getty Images
The old saying usually attributed to Alexander Graham Bell is: "When one door closes, another opens." That could be true for Democrats if Doug Jones falls short in his bid for a Senate seat in Alabama next Tuesday, temporarily closing off a path to a Democratic Senate majority after next November.
The new path to a Democratic Senate could run through a state nearly as unlikely as Alabama: Tennessee, where Republican senator Bob Corker is retiring. Former Tennessee governor and Nashville mayor Phil Bredesen has jumped into the Senate race, and is being taken seriously across the political landscape. Jennifer Duffy of the authoritative Cook Political Report immediately changed her rating on the race from "Likely Republican" to "Toss Up." Bredesen's announcement was made via a video that indicates the sort of outsider/nonideological problem-solver message the new candidate will certainly promote:
Bredesen is the last Democrat to win a statewide race in Tennessee (his gubernatorial reelection in 2006), and is a very well-known political figure with a moderate, pro-business reputation. Polls show him as having about the same approval/disapproval numbers (good if not great) as the Republican front-runner for the Corker seat, Representative Marsha Blackburn.
His entry into the race potentially creates a whole new dynamic. Previously Blackburn was focused on making sure that her most significant primary opponent, former U.S. representative Steven Fincher, did not get to her right. Now she has to cope with the possibility of a well-financed centrist Democrat in November.
Bredesen has no automatic pass to November, either: Political newcomer and Iraq War vet James Mackler has been in the race since April. Still, Tennessee Democratic insiders actively lured Bredesen into the race, viewing him as their one A-list option. Assuming Mackler stays in the race, he will probably spend a lot of time portraying himself as a fresh face, in contrast with the 74-year-old Bredesen.
One comparison Mackler supporters are already making, and which we will hear echoed by a lot of Republicans seeking to downgrade Bredesen's chances, is with two unsuccessful 2016 Democratic Senate candidates in red states, Evan Bayh of Indiana and Ted Strickland of Ohio. Both candidates had fairly recent wins on their résumés, and looked good on paper when they announced their candidacies. Bayh was even considered the front-runner until late in the campaign. In the end Strickland was trounced by more than 20 points and Bayh lost by nearly ten. But neither was Phil Bredesen, who is likely to have a lot more money than Strickland and doesn't have Bayh's unsavory history as a Washington lobbyist.
Whether or not he wins, Bredesen is likely to give national Republicans some heartburn and tie down resources they'd prefer to deploy elsewhere. And yes, no matter what happens in Alabama, Democrats can now identify three Republican Senate seats (in Arizona, Nevada, and now the Volunteer State) where a nice big wave and a little bit of luck might carry them to victory. A Democratic Senate would not only be a political nightmare for Donald Trump; it could block many of the Judicial and Executive branch nominations that have forged a bond between Trump and Establishment Republicans. And yes, the voters of Tennessee, who gave Trump a huge 61–35 victory in 2016, could be part of that shocking development.