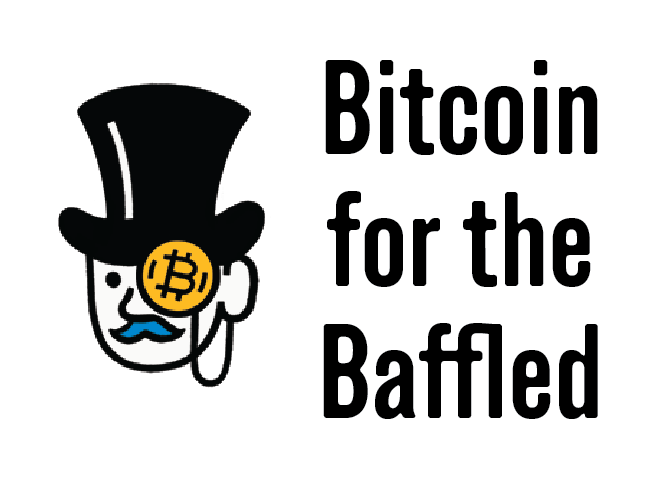 What to know about the crypto-craze before it implodes.
It's easy to forget, amid skyrocketing values, that the anonymous digital currency bitcoin was created to function as, well, a currency. Unfortunately for people who'd like to pay for (or sell) their bacon-egg-and-cheeses in cold, hard bitcoin, the currency faces some adoption problems. For one thing: Over the last year, bitcoin has increased in value 15-fold, which means a three-dollar bagel you bought with bitcoin last December would have become $45 in your bitcoin wallet if you'd left it alone.
"Nobody is really selling bitcoin right now while its value is so high," says Daniel Sim, the owner of Lean Crust Pizza. Sim started accepting bitcoin at his Fort Greene pizzeria in 2013, along with a host of cafés and grocery stores in Brooklyn and Queens owned by his parents. Sim's interest in using cryptocurrency as a payment method has turned Fort Greene into the nascent bitcoin capital of New York, with six restaurants, groceries, and a nail salon — Lean Crust, Greene Ave. Market, Fresh Garden, Greene-Ville Garden, Kinjo, and Mirai Wellness Spa — clustered in the neighborhood.
Sim, who has been interested in — and invested in — bitcoin since he heard about it in 2009, said that he got a flurry of interest when he first instituted bitcoin payments, with about 50 to 100 transactions per week, but that it tapered off after the initial burst of publicity. (For reference, over the course of 2013, the price of one bitcoin rose from around $10 to around $1,000.)
Sim is optimistic about the cryptocurrency's future, and said that he still holds out hope for bitcoin as a mass-consumer payment method. But beyond a few transactions at his family's businesses in recent months — the first in several years — the recent media attention bitcoin has received hasn't translated into more bitcoin-funded manicures. After the initial interest in paying with bitcoin waned a few years ago, the QR codes originally used for the transactions are nowhere to be found in the stores Sim and his family operate. Now, when the rare customer paying with bitcoin comes in, an employee at one of the stores will give Sim's number to the customer, and they'll complete the transaction over text.
What's that machine over by the M&M's?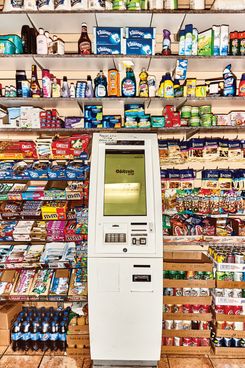 Even if bodega transactions aren't threatened by bitcoin's ascendance, the digital currency still has a major footprint in New York's groceries and corner stores. New York City is dotted with bitcoin ATMs, where users can put in cash and load up their wallets with fractions of bitcoin. The machines make it easy for casual users to turn cash into bitcoin, and are often found in bodegas, along with one conveniently located in the South Street terminal where the Staten Island Ferry docks.
An employee at G-Line Deli, a corner store at Nostrand and Lafayette Avenues in Brooklyn, said the store has had the machine for about a year, and has been seeing more and more users come in the last few months. James Jackson, of Bedford-Stuyvesant, was busy turning $10 into bitcoin on a recent weekday at the ATM inside the G-Line Deli. Jackson, 21, said he had heard about bitcoin over the summer when its skyrocketing valuation began to gain media attention, and saw it as a quick way to invest his spare cash, buying incrementally and trying to hit the ATM at least once a week.
"It's basically like stock for me," Jackson said, as he waved his wallet's scan code in the machine's sensor, prompting the display to bring up his account. "A lot of people I know are using these machines to buy bitcoin now that the stock is so high."
Where else can I spend my hard-earned bitcoin?
Melt Bakery, 132 Orchard St., LES, Manhattan
Julian Plyter, owner of Melt Bakery, estimates that he's made a grand total of about 75 bitcoin transactions since introducing it in 2014, but he said there's been an uptick in the recent weeks as bitcoin speculation reached a fever pitch in the news.
La Sirène, 416 Amsterdam Ave., UWS, and 558 Broome St., Soho
"The chef is extremely passionate about bitcoin and cryptocurrency in general, so he's really trying to have everyone around him acquainted with it and convince everyone it's a very promising method of payment," said Benjamin Cosso, the restaurant's general manager, who estimated that they get about two customers a week shelling out for a meal with bitcoin. In addition to bitcoin, La Sirène also accepts Ethereum, Dash, and Eos, among others. But leave your Visa and Mastercard at home: La Sirène does not accept such plebeian payment methods, according to the West Side Rag, a local newspaper covering the neighborhood.
The Montessori Schools, 5 W. 22nd St. and 75 Sullivan St., Flatiron and Soho Manhattan
These two Manhattan Montessori schools started accepting bitcoin in June, after several parents asked co-founder and chairman Marco Ciocca about using it to pay tuition — which runs about $30,950 for full-day students.
Beagle & Potts Woodworking, 465 Baltic St., Boerum Hill Brooklyn
If you cash out of bitcoin and need a place to store your loot, might we suggest cabinets from this bitcoin-accepting Boerum Hill store? Owner Rob Pettit began getting interested in bitcoin-investing in 2012, doing a handful of projects for customers paying in bitcoin, and said he gives a discount to clients looking to pay in bitcoin rather than with traditional payment methods. "I figured there had to be people in NYC who had made a lot of money off bitcoin, or had a lot of coin and needed a way to spend it, and I wanted to offer my services to those people," he said in an email.
Piccola Venezia, 42-01 28th St., Astoria, Queens
This Northern Italian spot in Astoria apparently accepts bitcoin at the initiative of some younger employees.
*A version of this article appears in the December 25, 2017, issue of New York Magazine.