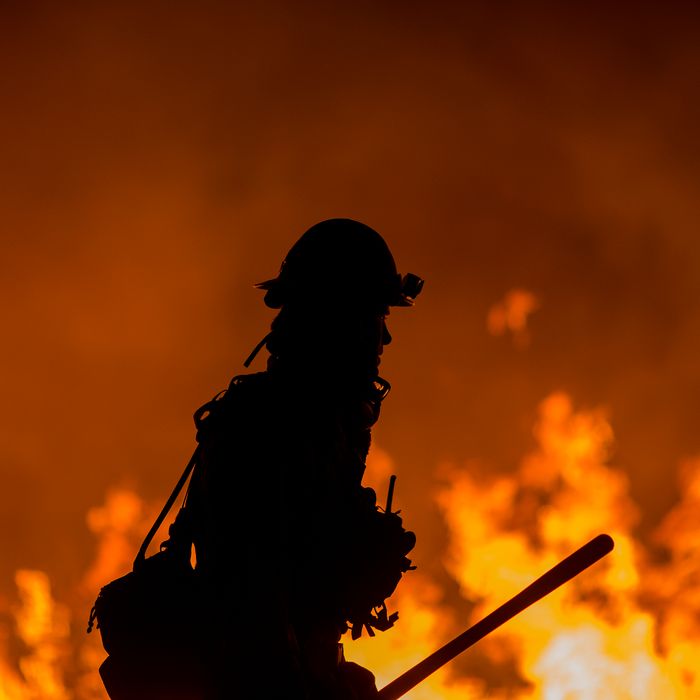 Near Lake Casitas on Sunday morning, firefighters use drip-torches in an effort to suppress the Thomas fire before the winds return at daybreak.
Photo: David McNew/Getty Images
Eight-thousand-and-five-hundred firefighters have been making progress against the six major wildfires still burning in Southern California, but the region isn't out of danger yet. The Santa Ana winds fueling the fires' growth temporarily died down on Saturday, allowing firefighters to gain more control; but gusts of up to 50 m.p.h. were expected to return on Sunday.
More than 200,000 people have been forced to evacuate on account of the fires, though many have been allowed to return home over the weekend. As many as 200,000 acres have already been burned, over 800 homes and other buildings destroyed so far, and at least one death — a 70-year-old woman who was killed in a car accident while evacuating in Ventura County — has been blamed on the fires. An unknown number of animals have been killed as well, including at least 54 horses, though hundreds more have been rescued.
California governor Jerry Brown has issued disaster proclamations for Santa Barbara, San Diego, Los Angeles, and Ventura counties, and President Trump approved a disaster declaration for the state on Friday.
According to Governor Brown, residents should probably expect the danger to return year after year, since the state may soon face a perpetual fire season.
"This is the new normal," Brown said on Saturday. "We're about ready to have firefighting at Christmas. This is very odd and unusual."
Brown cited climate change as the cause, and criticized President Trump in an interview with 60 Minutes for not taking the threat seriously, citing Trump's decision to withdraw the U.S. from the Paris climate agreement.
"I don't think President Trump has a fear of the Lord, the fear of the wrath of God, which leads one to more humility, and this is such a reckless disregard for the truth and for the existential consequences that can be unleashed," Brown explained.
California residents — or any other Americans — who suffer damage from wildfires and other natural disasters may also face another looming threat: the GOP tax overhaul. The Los Angeles Times points out that the House version of the looming Republican tax bill eliminates a deduction that allowed taxpayers to write off losses from disasters, while the Senate version limits the deduction to taxpayers living in an area that has been declared a federal disaster area by the president. In even the latter case, most disaster victims would probably then be out of luck, since Americans deducted $1.6 billion for uninsured losses from disasters that hadn't received the federal designation in 2015, according to the IRS. Additional tax exemptions would have to be passed on a case-by-case basis by Congress.
The largest of the Southern California blazes, the 155,000 acre Thomas fire in Ventura County was still only 15 percent contained as of Sunday morning. Many of the evacuation orders related to that fire have been lifted, but new ones were issued for the coastal towns of Carpenteria and Montecito. That fire has already destroyed at least 710 structures.
The Lilac fire in San Diego county, which has destroyed 182 structures, was 60 percent contained as of Sunday morning. The Creek, Skirball, Rye, and Liberty fires were at least 75 percent or more contained as of Saturday night.