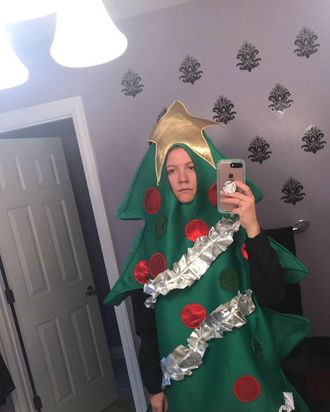 Photo: @kelseyhall1313/Twitter
Kelsey Hall never thought she'd get 1,000 retweets. When the 20-year-old University of Alabama student tweeted a picture of herself in a Christmas-tree suit saying she'd wear it every day for the rest of the semester if she hit that 1,000 mark, she figured she was in the clear. This was, she now knows, a mistake. Never underestimate the collective internet's desire to make a total stranger look like a real doof.
"I thought 1,000 was a total unrealistic number," Hall told Select All. "After it got to 300 retweets, it started going up really quickly, and I started getting worried." She's since hit her initial goal 23 times over.
True to her Twitter word, Hall has been wearing the costume around campus each day. "My mom bought it for me because it reminded her of me, because I love Christmas and dressing up to be goofy," she said of the suit, which she has worn for the last two days. "People are mostly giving me weird looks, and some people recognize me from Twitter and get excited and ask for pictures; a lot of people just laugh and say they like my costume," Hall explained. She also noted that she takes the suit off before going into any of her actual classes, so she won't distract anybody.
Fortunately, Hall didn't leave herself too many days in her initial offer to wear the costume "for the rest of the semester." "I have three more days of wearing it, and I need to look into washing it because it got rained on today," she said.