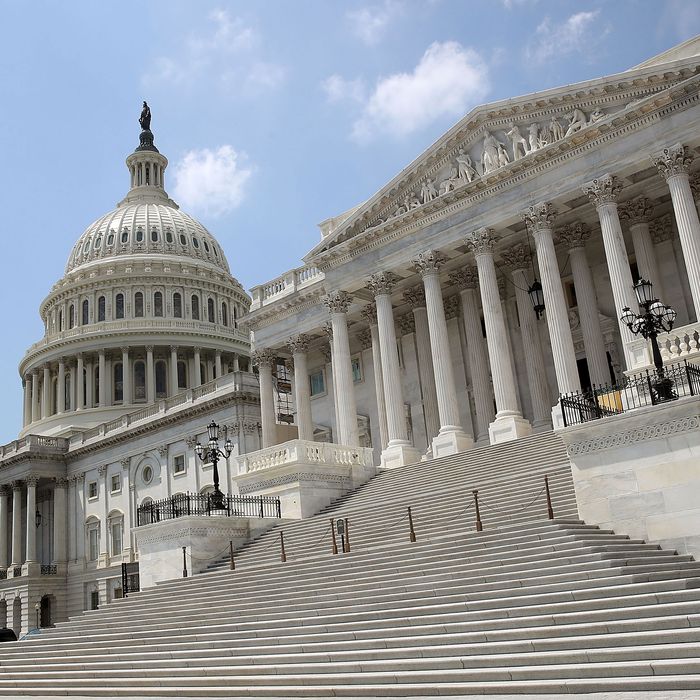 Democrats and Republicans remain divided on conditions for a spending agreement, but can probably avoid a government shutdown before Christmas.
Photo: Mark Wilson/Getty Images
In agreeing to a two-week stopgap spending bill late last week, Congress and the White House set up a possible government shutdown just before Christmas. But it's now looking like negotiators are making progress on the most essential task they've given themselves: agreeing on broad numbers for defense and nondefense spending that would otherwise be constrained by spending caps imposed back in 2013. If they can finalize that agreement and avoid a big collision over non-money issues such as immigration, they should be able to avoid a shutdown, and kick the can down the road until early next year, with yet another short-term spending bill.
Even as they labor to destroy any semblance of fiscal discipline in the tax bill both Houses have passed, congressional Republicans are frantic to boost defense spending beyond the modest increases provided for in the recent past. But because Democratic votes are necessary for any spending deal, Republicans are forced to share the gravy with nondefense appropriations, and according to Roll Call, it appears negotiators are settling on a total spending boost of well above $200 billion over two years:
Some budget experts with negotiating experience anticipate the final deal will provide a $60 billion to $70 billion increase to defense and a $50 billion to $60 billion increase to nondefense each year — less for defense than Republicans want and also short of the strict dollar-for-dollar parity sought by Democrats.
With these numbers put in place, Congress could then, at its leisure, put together the actual appropriations bills to implement the agreement before the next stopgap spending bill expires early next year.
But this mutual back-scratching to provide more money for everybody depends on other issues that one party or the other is bringing to the negotiating table. Some, like increased disaster funding (for states hit by wildfires, as well as hurricanes), are mostly a matter of compromising on numbers. Others, like resolving a long-standing delay in reauthorization of the Children's Health Insurance Program (CHIP), probably have enough bipartisan support to get into the next deal. Beyond that, though, it's a question of how far negotiators — particularly Democrats — are willing to go in risking a government shutdown to press their demands on additional items.
The big issue for Democrats is relief for DREAMers via restoration of the DACA protections due to expire in March, subsequent to an executive order the president signed in September. The initial question is whether Democrats will play hardball over DACA, even though the threat to DREAMers isn't immediate:
Republican leaders have thrown cold water on the idea that a DACA deal could get attached to a year-end spending package, leading to questions about whether Democrats — under pressure from their base — would shut down the government over a program that doesn't begin to expire fully until March. Activists and some Democratic members point out that the must-pass spending deadline could be the party's best opportunity to exert pressure on Republicans who don't want a government shutdown to occur when they control all levers of government.
Beyond that, it is unclear whether Democrats have enough leverage to secure DACA restoration as a free-standing initiative, or whether they will have to make the major and potentially impossible concessions on immigration policy that Trump and some congressional Republicans have been demanding as the price for any help for DREAMers.
There is also some bipartisan support for slipping provisions into the stopgap bill to stabilize Obamacare markets, by restoring the cost-sharing reduction payments to insurers that Trump suspended in October. Both Trump and Mitch McConnell promised Senator Susan Collins they'd support such provisions, in exchange for her vote on the GOP tax bill. But it's clear House conservatives have the leverage to keep that, and perhaps other items Democrats support, out of the bill:
House leaders have promised conservatives that the next spending bill will not contain funding for ObamaCare cost-sharing reduction (CSR) payments, Representative Mark Walker (R-NC) said Thursday.




"The three things that we've been told are not gonna happen as part of our agreement: no CSRs, no DACA, no debt limit," Walker said, referring to the Deferred Action for Childhood Arrivals (DACA) program.
Elements in both parties have every incentive to rattle sabers as the December 22 funding deadline approaches. The most likely outcome remains an agreement over spending targets and an extension funding of the federal government into January, with both Democrats and conservatives vowing no more additional extensions until all their demands are met. So while the odds of a pre-Christmas government shutdown are slim, the odds of a midwinter shutdown keep going up.