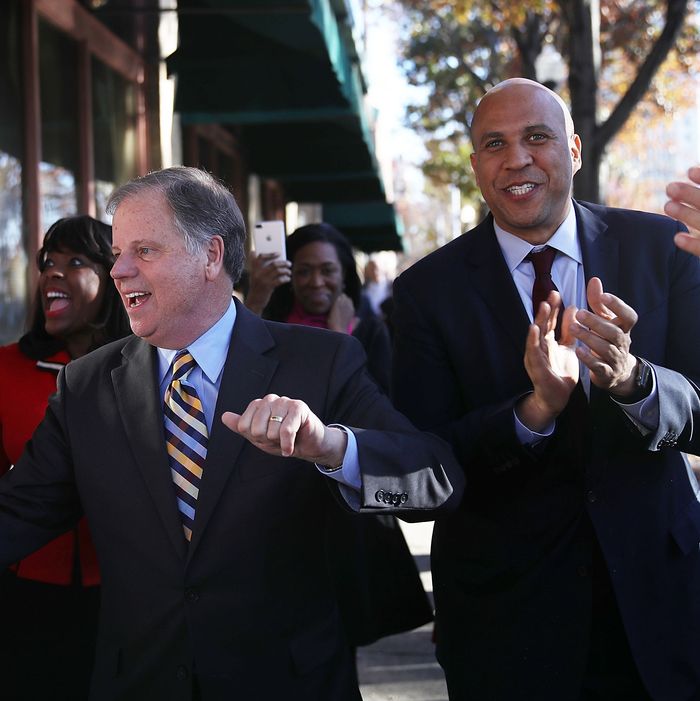 Booker brought his trial balloon to Alabama.
Photo: Joe Raedle/Getty Images
On Sunday afternoon, a Newark, New Jersey, politician found himself some 950 miles away from home in Birmingham, Alabama, in service to others and, it sure sounded, to his own presidential ambitions.
Cory Booker came here this weekend in support of Doug Jones, the Democratic candidate in the December 12 special election for the U.S. Senate seat vacated by Attorney General Jeff Sessions. It's an event that has become less about policy or ideology in the traditional sense than about the question of morality itself and whether such a thing even matters in our politics now.
Early in the race Jones, 63, who was a U.S. attorney during the Clinton administration, cast himself as the choice for any voter concerned with decency and the rule of law. While his Republican opponent, Roy Moore, was twice removed as Alabama Supreme Court chief justice for refusing court orders, Jones touted his work in the early 2000s, prosecuting members of the Ku Klux Klan who bombed a black church here in 1963.
The contrast deepened when Moore was accused of sexual misconduct and assault by multiple women (some of whom claim they were underage at the time). The scandal helped Jones raise over $10 million in October while Moore raised less than $2 million — yet Jones still finds himself down an average of 3.8 percent in the polls.
As men in positions of power across all sectors of American life have, fairly and unfairly, been toppled by allegations regarding their conduct toward women, the race in Alabama threatens to serve as a rejection of the so-called reckoning, a reminder that the entire country isn't Hollywood, the media, or Washington.
Jones's predicament has echoes of Jon Ossoff, the Democratic candidate in last summer's Georgia special election who, despite raising an astounding sum and attaining some political celebrity nationally, failed to flip a historically Republican seat. President Donald Trump, after all, beat Hillary Clinton by close to 30 points in Alabama; if Jones wins, he'll be the first Democrat the state has sent to the Senate since 1992.
Unlike the charismatic Georgia Democrat, before a crowd of a few dozen at his downtown field office across from the Carver Theatre on Sunday, Jones was about as exciting as an earthworm, short and meek with a voice that strained to register over the sounds of those assembled and the passing traffic.
But as something sick brews in Alabama, there exists opportunity for those who want it and are talented enough to grab hold of it. Liberal super-PACs have contributed funds and other resources, but big-name Democrats have mostly steered clear of the state: Joe Biden visited just once, in early October, and the New York Times reported that Barack Obama has recorded a robocall for Jones — but as of Sunday night, the campaign remained unsure if they'd use it. As the Democratic Party attempts to regain its footing, potential leaders are finding arenas to test their effectiveness and their messaging. Thus, this weekend both Deval Patrick, the former governor of Massachusetts, and Cory Booker were on the ground in Alabama — and Booker brought his stump speech.
Booker was voted into the Senate in his own a special election three years ago, though his status was cemented long before that; as a brilliant and telegenic young mayoral candidate and then mayor, he was already a fixture on daytime TV and the subject of much gauzy media coverage.
While campaigning with Jones on Saturday, Booker became the first prominent Democratic lawmaker to respond to Senator Al Franken's resignation by calling on Trump to resign over sexual misconduct, harassment, and assault allegations.
Twenty-four hours later, Booker was at a get-out-the-vote event, where he notably said little about his candidate. He was joined by Jones before voters, volunteers, activists, and — importantly — the press.
The crowd spilled out onto the street, where camera crews from NBC and Fox News had assembled in preparation for a news conference.  Jones spoke first, briefly introducing Booker as having "roots" that "go back to Alabama" with what he said were ancestors who had been local coal miners.
For Booker, the calculation is simple: If Jones loses, it's not his problem. If he wins, he'll be credited with having helped when it mattered most, when Joe Biden was nowhere to be found, and in the South no less — where many Democrats believe they will have to be competitive if they are to erode the gains made by Republicans in recent federal and state elections. Either way, Booker chose a low-stakes venue to deliver what could objectively be described as a hell of a speech, one fit for a party convention more than a street corner at 2 p.m. on a day of rest.
He quoted Langston Hughes. He spoke Latin. He performed the lyrics to "My Country, 'Tis of Thee." He hollered, and the crowd hollered back. His words flowed with ease and obvious connection to his many coherent thoughts — a manner that seems almost alien in the Trump era. He vacillated between supernatural themes and earthy humor, all hyped up like his candidate isn't currently getting beat by a guy who was reportedly banned from the mall for hitting on tweens — perhaps because his candidate wasn't really the point.
Booker said he was compelled to come to Alabama to pay forward what past generations had done for him and his family during the Civil Rights movement, placing the outcome of the special election within a broader narrative of battles of conscience throughout history. He recalled the beaches of Normandy, women's suffrage, and sweatshop workers. He did not recall Roy Moore, whose name he failed to mention even once.
But he did mention Iowa, the state where the first presidential caucuses are held and where potential candidates flock in the years and months preceding an election.
After his remarks, he answered four questions from the press. While he spoke, a man in the crowd shouted, "Booker 2020!" The final question was about running for president. Booker smiled knowingly. In 2020, he said, he's up for reelection — to the Senate. A nonanswer if there ever was one, since there's dispute in New Jersey regarding the legality of running for two federal offices simultaneously.
Then Booker walked down the sidewalk and boarded a waiting SUV, shaking hands along the way.