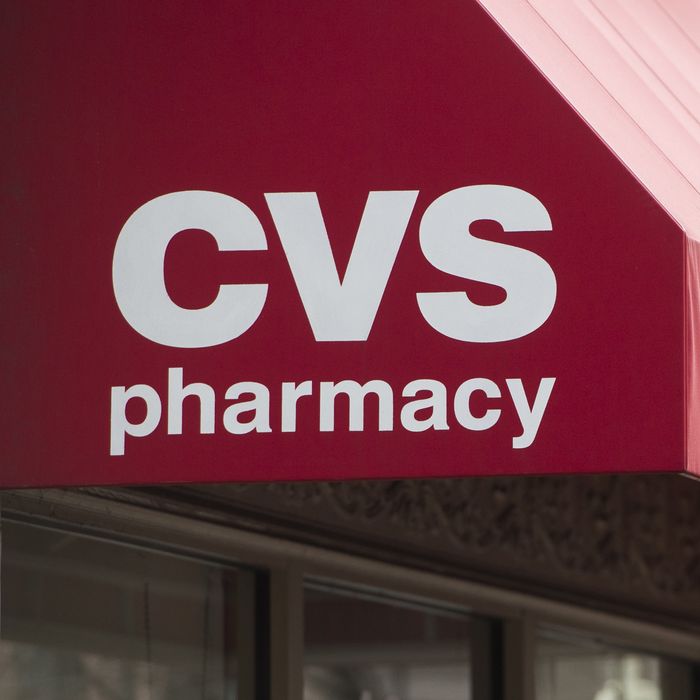 "Would you like health care and insurance with that sunscreen?"
Photo: Saul Loeb/AFP/Getty Images
CVS Health has agreed to acquire Aetna for about $69 billion in a deal which, if approved by shareholders and regulators, could dramatically reshape the health-care industry. The megamerger would combine the largest pharmacy chain in the U.S. with the nation's third-largest health insurer, and may lead to more consolidation and restructuring among competitors. That trend is in part a reaction to the threat posed by Amazon to the pharmacy sector — reportedly one of the main reasons CVS and Aetna pursued the deal in the first place.
Exactly how the deal will ultimately affect health-care consumers is debatable, but the combined company apparently plans to use CVS's 9,700 retail locations to provide more health-care services, turning some into community health-care centers. CVS has already started moving in that direction with its roughly 1,100 MinuteClinics, and many analysts see the shift to in-person services as essential since more and more retail purchasing continues to move online.
Aetna has more than 22 million members across its various insurance plans, and in the future, those customers could be directed to the more comprehensive CVS clinics for preventative (primary) care and post-hospital monitoring, as well as imaging, vision, hearing, and wellness services. CVS would also obviously be able to corner its insurance-plan members' prescription needs, which could conceivably drive down prices.
On the other hand, critics point out that limiting consumer choices, as consolidating industries tend to do, often pans out much better for corporations than it does for customers.
The deal — one of the biggest health-care mergers ever — will still have to face federal antitrust regulators. But because the two companies are not competitors, it might face better odds than recent attempted insurance mergers between Aetna and Humana and Anthem and Cigna, both of which failed to gain approval.
Combining the infrastructure of such large companies is always a challenge, and it's worth pointing out that a shocking number of mergers and acquisitions ultimately fail in the long term.
The deal is expected to be announced on Sunday night, and if approved, would likely close late next year.