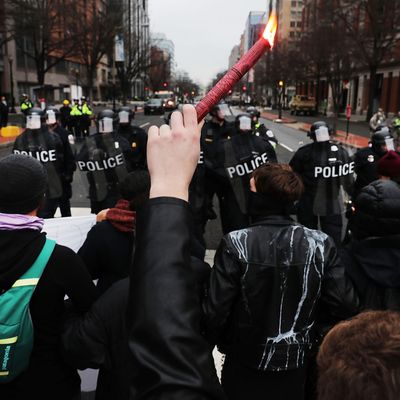 Inauguration day protests in Washington, DC.
Photo: Spencer Platt/Getty Images
Six people arrested during protests on Donald Trump's inauguration day and charged with rioting and destruction of property were acquitted Thursday, a good sign for the more 150 other so-called J20 protesters awaiting trial.
The verdict, delivered by a D.C. Superior Court jury, followed a four-week trial that saw prosecutors attempt to pin blame for $100,000 worth of property damage on the six protestors. Though they admitted there's no evidence linking the defendants to the property damage, the Justice Department lawyers argued that they were part of the so-called riot anyway.
"Each of them made a choice, and each of them played a role," Assistant U.S. Attorney Jennifer Kerkhoff said during opening statements last month. "You don't personally have to be the one who breaks the window to be guilty of rioting."
Defense attorneys argued that their clients may have been around the people breaking windows and trashing limos, but they weren't doing it themselves. They also criticized police for failing to pursue the actual criminals and instead, rounding up a group of 200 people and charging them all with rioting.
Attorney Steven McCool, who represents one of the protestors, argued that the Justice Department was trampling on his client's First Amendment rights. He also compared the defendants to well-behaved football fans wearing the same clothes as not-so-well-behaved fans. "They may wear the same color jersey as those knuckleheads acting up, but that doesn't mean they're there to break anything, help someone break something or hide anyone who's breaking things," he said.
Among the six defendants acquitted was freelance photographer Alexei Wood, whose case proved that the Trump administration's attacks on the media are not limited to cries of "fake news." Wood was a part of the protest, prosecutors argued, while he said he was simply there to document the demonstration. The government's charges against him draw heavy criticism from free press groups and now his acquittal has them celebrating.
Also celebrating, one assumes, are the 166 people who await trial for their own alleged participating in inauguration day riots.