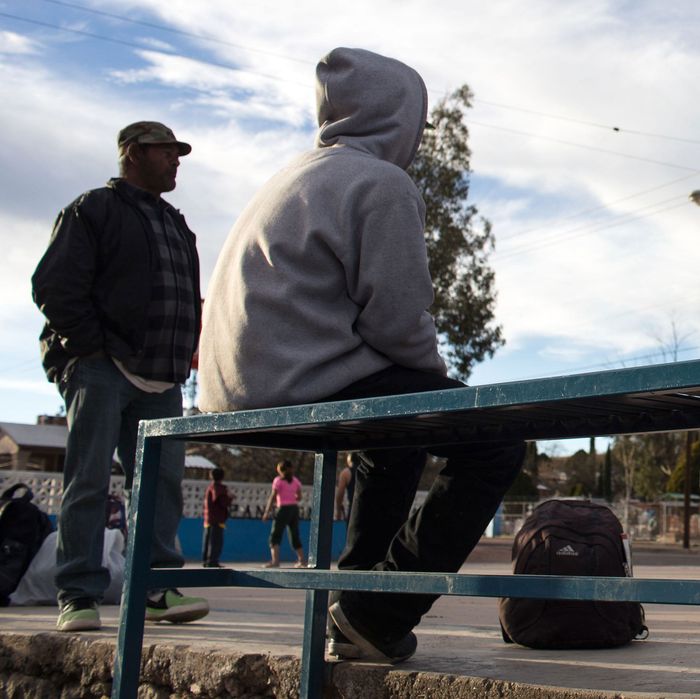 Deported migrants wait in a park near the U.S.-Mexico border in Nogales, on February 16, 2017, in northwestern Mexico.
Photo: Guillermo Arias/AFP/Getty Images
Nearly a year into his presidency, Donald Trump doesn't appear any closer to delivering on his promise to build a wall on the border between the U.S. and Mexico. But it's hard to imagine he's not thrilled with the rest of the immigration picture in the U.S.
Along with killing DACA and limiting legal immigration, Trump also has Immigration and Customs Enforcement working harder than ever. Though total deportations fell in 2017, arrests of undocumented immigrants living in the U.S. surged. The majority of those arrested were first convicted or charged with a crime, though many of those crimes were low-level traffic offenses. Still, some were innocent of all but being in the country illegally. The number of non-criminal immigrants arrested in 2017 increased by 250 percent, up to 13,600 compared to 5,498 in 2016.
That's a reflection of new Trump policies laid out in an executive order issued early in his presidency. The order ended Obama-era prioritization of criminal immigrants and gave ICE officers much more latitude to arrest people for the simple crime of being in the U.S. illegally. And they took advantage of that latitude, making more than 143,000 arrests for civil immigration violations, up from 110,000 in 2016.
"The president has made it clear in his executive orders: There's no population off the table. If you're in this country illegally, we're looking for you and we're going to look to apprehend you," ICE's acting director Thomas Homan said earlier this month.
Overall deportation numbers fell in 2017 in part because fewer people were coming across the border. Immigrants who are detained within 100 miles of the border and have been in the U.S. for fewer than 14 days are eligible for expedited removal. The number of those immigrants deported this year dropped 17 percent, thanks in no small part to Trump's ability to instill fear in those who might otherwise cross.