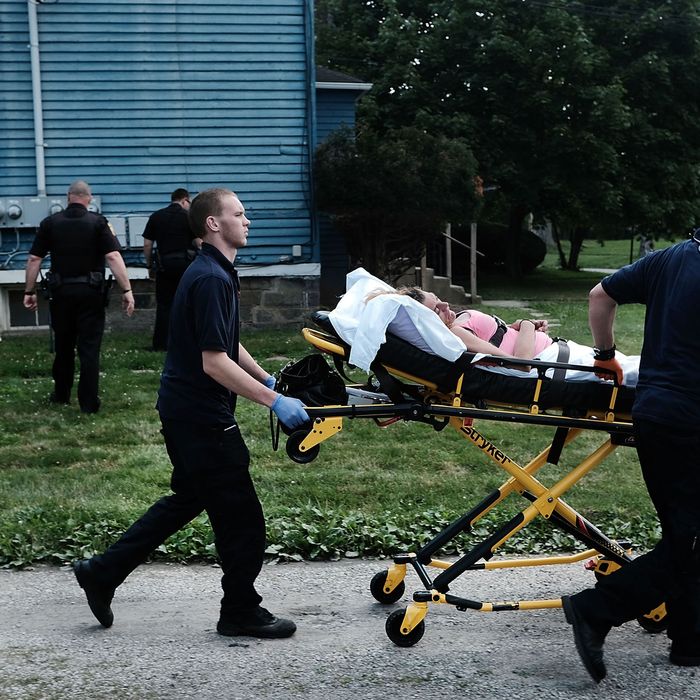 Let it be?
Photo: Spencer Platt/Getty Images
In 1993, the peak year for firearm violence in the United States, guns killed nearly 40,000 Americans. In 1995, the deadliest year of the HIV/AIDS epidemic, 43,000 Americans lost their lives to the virus. In 1972, the heyday of the Ford Pinto — and nadir of automotive safety in the this country — 55,000 died in car accidents. The entire Vietnam War sent 58,000 Americans home in body bags.
Last year, drug overdoses killed 63,600 Americans – a 21 percent increase from 2015, which had previously been the worst year for drug overdoses in our nation's history. About 42,200 of last year's drug deaths were linked to opioids, up from 33,000 the year before.
This surge in drug deaths helped to reduce life expectancy in the United States for the second consecutive year — the first time that's happened since the early 1960s. Beyond the incalculable human toll of all this death, the opioid crisis cost the American economy $504 billion in 2015 alone, according to the White House Council of Economic Advisers.
And we're doing virtually nothing about it.
In October, President Trump declared the opioid epidemic a public-health emergency – but declined to call for a single dollar in new funding to address the crisis. Congressional Republicans proceeded to add $1.5 trillion to the deficit for regressive tax cuts — but, to this point, have allocated a mere $500 million in federal funds for addiction services next year. Experts who spoke with Vox's German Lopez suggested that the federal government would need to appropriate tens of billions of dollars — annually — to make treatment easily accessible to every addict who needs it.
Instead, the Republican Party — which owes its grip on federal power to the white, rural counties most ravaged by the opioid crisis — spent most of this year trying to reduce access to addiction treatment, by passing trillion-dollar funding cuts to Medicaid and Obamacare. The former program pays for 44 percent of all addiction treatment in Kentucky; 45 percent in West Virginia; and roughly 50 percent in Ohio. Every Republican senator from those states voted to slash $700 billion from the program anyway — except for Kentucky's Rand Paul, who opposed that legislation because its Medicaid cuts weren't nearly steep enough.
Meanwhile, the opioid crisis evolved. The typical victim of the epidemic used to be an individual who received prescription opioids from a doctor, developed a habit, and, perhaps, graduated to heroin. But as regulators and doctors have restricted the flow of prescription pills, more and more Americans are starting with heroin, homemade fentanyl, and other illicit opioids. The supply of Oxycodone might have receded, but the demand it both served and cultivated remained. And there is no shortage of unsavory suppliers eager to feed that emerging market.
Last year, non-methadone synthetic opioids like fentanyl — which are, typically, several times more potent than heroin — were linked to 19,400 deaths, more than any other class of opioid. This was the first time that these synthetic opioids killed more people than conventional painkillers or heroin.
As these extraordinarily powerful, synthetic opioids become more prevalent, there's reason to fear that our nation's drug overdose problem will continue to metastasize. Preliminary data from the CDC suggests that even more Americans will lose their lives to opioids this year than did in 2016.
This was not inevitable. There are so many things our government could do to stem the rising tide of drug deaths. The most effective remedy for opioid addiction, bar none, is medication-assisted treatment (MAT). Under MAT, addicts are provided with methadone and buprenorphine — less powerful opioids that satiate most addicts' cravings, and arrest their withdrawal symptoms, without inducing heroin's debilitating, euphoric high. Decades of research, the World Health Organization, CDC, and National Institute on Drug Abuse have all demonstrated MAT's efficacy. Some studies suggest that the treatment reduces mortality among drug addicts by more than 50 percent. And yet, the therapy is only available in about 10 percent of America's conventional drug-treatment facilities. Our government could allocate the resources to change that.
While recent federal measures have significantly reduced the overprescription of opioids, doctors nonetheless prescribed enough in 2016 to fill a bottle for every American adult. Given the dearth of evidence that opioids are an effective treatment for chronic pain — and the glut of evidence of their dangers — this is a disconcerting statistic. The National Academies of Sciences, Engineering, and Medicine recently called on the Food and Drug Administration to conduct a review of opioids already on the market, and to strengthen its post-approval oversight of such painkillers. The FDA could honor that recommendation.
Roughly 40 million Americans still lack health insurance — and thus, access to affordable addiction and mental-health services. Our government could join its peers in the developed world in providing its citizens with universal access to health care.
And then, we could tackle the harder, broader problem: That something about our nation's economic, cultural, and political life is leaving a large portion of its citizens resorting to substance abuse to fulfill one frustrated need or another.
Or, our government could comport itself as though the greatest policy crisis facing the United States is that too many of its poor residents have access to food assistance and medical care.
You will be shocked to learn which way Congress is leaning.