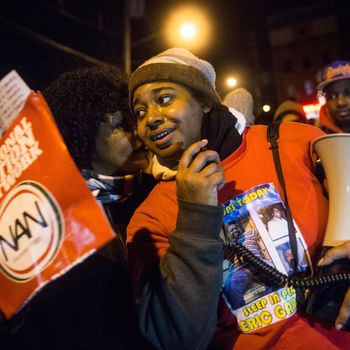 Erica Garner, daughter of Eric Garner.
Photo: Andrew Burton/Getty Images
Erica Garner, who emerged as a prominent civil-rights activist after the 2014 killing of her father at the hands of the NYPD, is brain-dead after suffering a massive heart attack, the Daily News is reporting.
"She's not gone, she's brain dead," Garner's mother, Esaw Snipes-Garner, told the paper. "Physically she is still with us."
The daughter of Eric Garner suffered a heart attack after an asthma attack, Snipes-Garner told WABC. She said her daughter had her first heart attack in August after having her son, leading doctors to diagnose the 27-year-old with an enlarged heart.
On Wednesday night, an update from Garner's verified Twitter account said that she suffered "major brain damage."
Garner emerged in recent years as a prominent Black Lives Matter activist and a vital voice in the fight against police brutality. Last year, she became involved in the Democratic presidential primary by endorsing Senator Bernie Sanders in a moving ad.
On Tuesday, Sanders tweeted his well-wishes to Garner and her family.