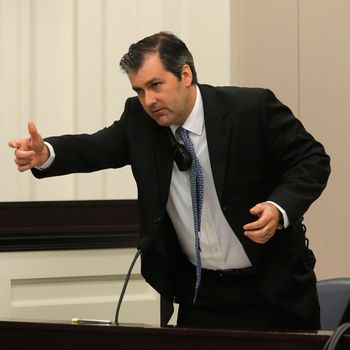 Guilty as charged.
Photo: Grace Beahm - Pool/Getty Images
In April 2015, Michael Slager shot Walter Scott five times from behind. Scott was unarmed and running away from Slager when the bullets pierced his body and ended his life. We know this because a witness caught the incident on tape.
It was the one high-profile killing of an unarmed black man by a police officer that virtually everyone could agree on. All of the most prominent Republican elected officials in South Carolina, where the shooting took place, condemned Slager as a criminal.
Last December, a jury of Slager's peers couldn't unanimously agree — a lone, contrarian juror was unwilling to convict the former cop. Slager was set to stand for retrials, on both the state and federal levels, when he pleaded guilty to the federal offense of violating Scott's civil rights in May of this year. That plea put Slager's fate in the hands of U.S. District Judge David Norton, who was tasked with determining whether the ex-cop was guilty of manslaughter or murder — and what sentence he should serve for either offense.
On Thursday, Norton found Slager guilty of second-degree murder. Federal guidelines recommend a sentence of between 19 and 24 years for that offense. Norton said Thursday that he would give significant weight to those guidelines — but would wait until after he heard testimony from Scott's friends and family before handing down a final sentence.
Federal officials had previously recommended a sentence of between 10 and 13 years. Slager's attorneys — who contend that Scott wrestled a stun gun away from Slager, right before the witness with the cell phone began taping the incident — have argued for far greater leniency.
Walter Scott's son, Miles Scott, encouraged Norton to put Slager behind bars for life.
"He will never see me play high-school football, never see me graduate," the teenager testified. "My heart is destroyed because the way my father went was wrong … I would like you to sentence the defendant to the strongest sentence the laws allow because he murdered my one and only father."