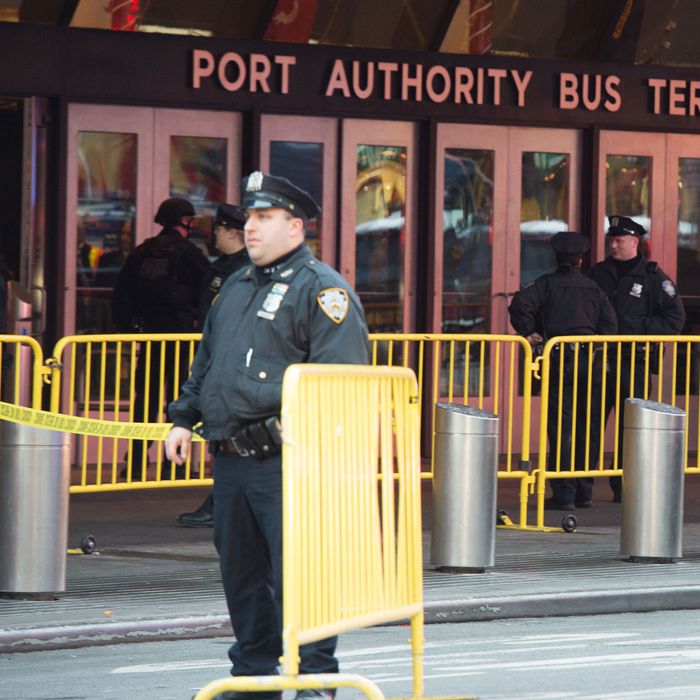 The scene on Monday morning.
Photo: BRYAN R. SMITH/AFP/Getty Images
A suspect is in custody after a pipe bomb attached to him exploded — likely prematurely — in an underground tunnel near New York's Port Authority.
The suspect, identified as 27-year old Bangladesh native and Brooklyn resident Akayed Ullah, was in serious condition at Bellevue Hospital. Three other people were being treated for minor burns.
In a press conference, Mayor Bill de Blasio said, "This was an attempted terrorist attack." NYPD Commissioner James O'Neill said the suspect "was wearing an improvised low-tech explosive device attached to his body" when it went off.
Former NYPD Commissioner Bill Bratton told MSNBC that the attacker was inspired by ISIS.
The explosion happened at about 7:30 a.m in an underground passageway under 42nd Street, between 7th and 8th Avenues. It filled the area with smoke, prompting a massive police response and the evacuation of the Times Square and Port Authority subway hubs, snarling New York's morning commute. The Port Authority was later reopened.
The explosion was caught on surveillance video: