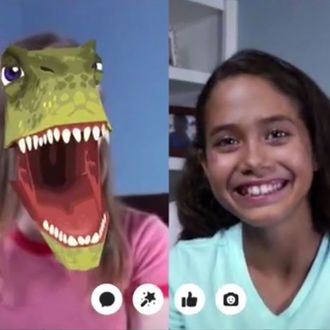 Facebook's already exploited your adult brain to get you addicted to using the platform, now it's coming for your kids, too. The company announced a new app called Messenger Kids, geared specifically at the 13-and-under set. Unlike traditional Facebook properties, Messenger Kids is engineered to give parents control over how their kids use it and whom they talk to via the app. It "lives on kids' tablets or smartphones, but can be controlled from a parents' Facebook account," the company explained in a blog post.
From Facebook:
Messenger Kids is full of features for kids to connect with the people they love. Once their account is set up by a parent, kids can start a one-on-one or group video chat with parent-approved contacts. The home screen shows them at a glance who they are approved to talk to, and when those contacts are online.
The app also has features like "GIFs, frames, stickers, masks and drawing tools" — if any of this smacks of Snapchat to you, it should — that kids can use to adorn their content. Facebook promises the app will have no ads, and that your child's data won't be used for them. The app is currently available for iOS users in the United States. Start the countdown clock until something goes wrong here. Minors? Internet communication? It's only a matter of time.