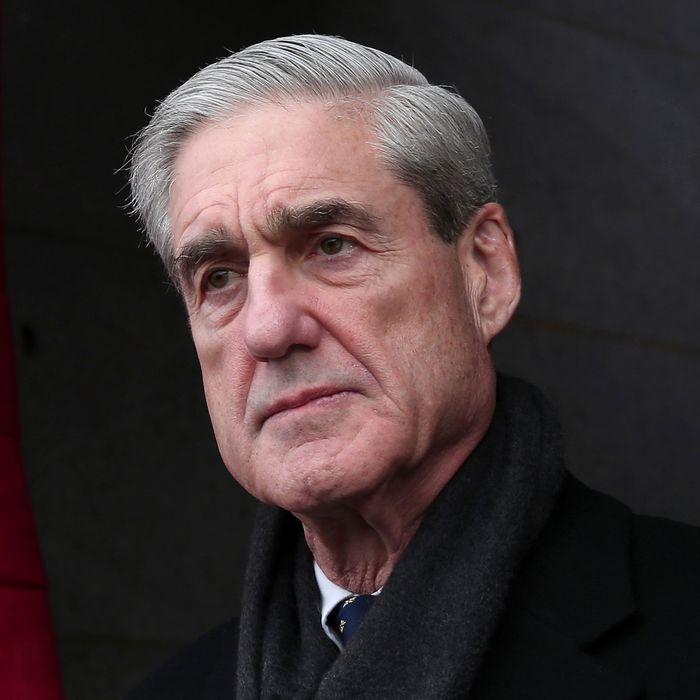 Somehow firing someone over anti-Trump messages proves Robert Mueller is biased against Trump.
Photo: Win McNamee/Getty Images
Republicans added a titillating new narrative to their ongoing effort to delegitimize special counsel Robert Mueller's investigation earlier this month when it was revealed that a top FBI counterintelligence agent was removed from Mueller's team this summer after the Justice Department's inspector general began looking into politically charged text messages he exchanged with another FBI official. On Tuesday night the Justice Department provided Congress with copies of those messages, which were promptly made public, adding more fuel to right-wing claims that Trump is being unfairly persecuted by the nation's top law-enforcement agency.
Peter Strzok, the deputy head of counterintelligence at the FBI, and Lisa Page, a senior FBI lawyer, were both involved in the investigation of Hillary Clinton's private email server and the Trump team's possible Russia ties. The pair reportedly exchanged the messages while carrying on an extramarital affair, and they came up as part of a Justice Department inspector general's probe of how the FBI handled the Clinton and Trump investigations.
In the 375 texts shared with Congress, Strzok and Page make it clear they're not fans of Trump. They called him an "idiot," a "douche," and a "loathsome human." After Trump alluded to his penis size during a debate, Page texted, "This man can not be president." At another point Strzok commented, "God, Hillary should win 100,000,000–0.'' They both said they were concerned that Trump might actually win, and Strzok remarked, "I'm scared for our organization."
They also criticized a number of Democrats, including Eric Holder, Martin O'Malley, and Bernie Sanders. "I just saw my first Bernie Sanders bumper sticker. Made me want to key the car," Page wrote in August 2015.
"He's an idiot like Trump. Figure they cancel each other out," Strzok replied.
Under FBI regulations, officials are allowed to privately express their political views. FBI officials who worked with Strzok told the New York Times that they never found him to be biased, but the inspector general is looking into whether he and Page let their personal feelings influence their work.
While we now know that Strzok and Page held political views typical of the average Clinton voter, we still know almost nothing about the bigger questions raised by these reports. For starters, what prompted the inspector general to look into top FBI officials' private text messages, and why are we hearing about this now? The Times notes it's "highly unusual" for the government to release such documents in the middle of an investigation, and concludes, "By releasing the texts, the Justice Department has given Mr. Trump both a shield and a sword in his political battle with Mr. Mueller's investigators."
The messages span from August 2015 through early December 2016, which is long before Mueller was named special counsel. But, of course, figures on the right are already arguing that they prove Mueller's entire investigation is tainted.