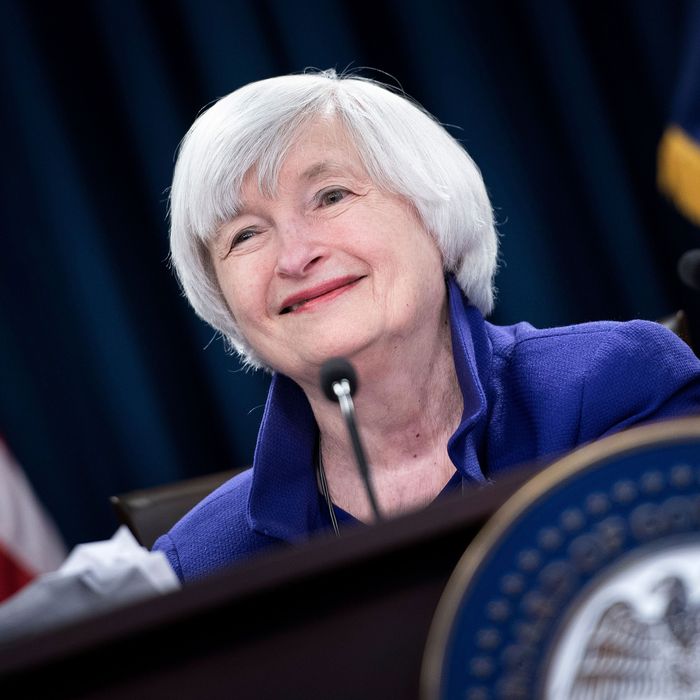 Yellen.
Photo: Brendan Smialowski/AFP/Getty Images
The Federal Reserve hiked its benchmark interest rate by a quarter point Wednesday to 1.5 percent, in a (widely expected) expression of confidence in the American economy. On the day of Janet Yellen's final news conference as chair of the central bank, the Fed announced that the economy is on track to expand 2.5 percent next year — up from 2.1 percent in its current forecast — while unemployment is poised to dip below 4 percent in 2018.
"At the moment, the U.S. economy is performing well," Yellen told reporters. "There's less to lose sleep about now than has been true for quite some time."
The departing Fed chair did confess one regret about her (quite successful) tenure — despite years of near-zero interest rates, inflation remains stubbornly below the central bank's 2 percent target. At present, the Fed expects inflation to hover around 1.7 percent by year's end.
And yet, despite too low inflation — and mediocre wage growth — the central bank still expects to raise interest rates three more times in 2018. That projection reflects Federal Reserve governors' belief that a tightening labor market will accelerate growth in workers' paychecks and consumer prices next year.
Wednesday's interest-rate hike was the fifth since 2008. Thus far, those increases in the cost of borrowing have produced little discernible pain in the economy. But if rates continue their upward drift in 2018, consumers with significant credit-card debt should start to feel the pinch (and the American economy has been very dependent on debt-financed consumer spending in recent years).