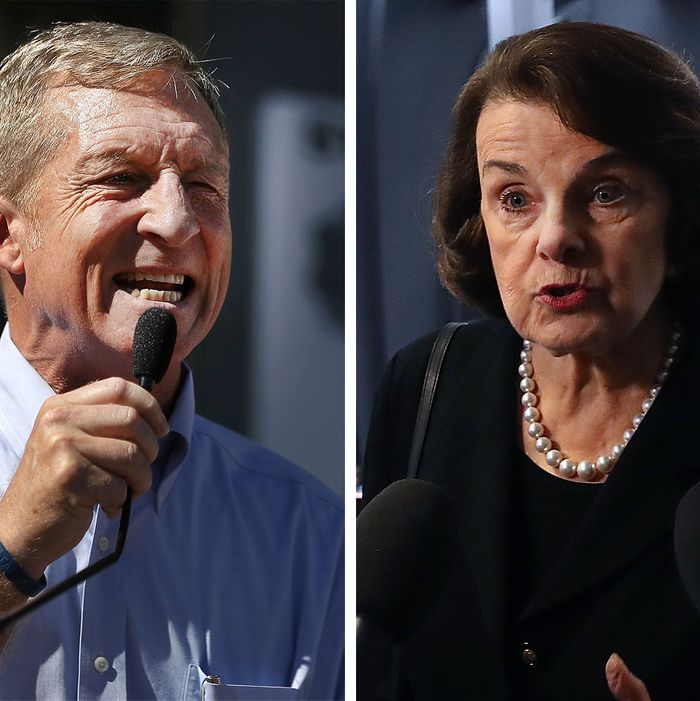 Veteran Sen. Diane Feinstein could soon face a tough challenge from billionaire progressive activist Tom Steyer.
Photo: Getty Images
The nation's largest state is expected to have a very packed midterm election next year, with Jerry Brown finally vacating the governorship after his second eight-year stint; a batch of competitive U.S. House races that could help Democrats regain control of the chamber; and 84-year-old Diane Feinstein running for a fifth full Senate term, despite some concerns that she's extending her remarkable political career too long.
Complicating everything in California politics is the state's "Top Two Primary" system, in which all candidates for office appear on the same June primary ballot, with the top two — regardless of party or the percentage won in the first round — competing in the November general election. Enacted by a 2010 ballot initiative after a campaign that stressed the system's incentives for moderate candidates who can appeal to voters across party lines, Top Two has actually had the effect in some contests of excluding the minority party from general elections. That happened last year in a U.S. Senate race to choose a successor for veteran Democratic senator Barbara Boxer, as Democrats Kamala Harris and Loretta Sanchez were the top two (Harris, generally considered the less moderate of the two, won pretty easily in November), with many Republican voters just abstaining.
As the midterm elections take shape, all-Democratic general elections for both the U.S. Senate and the governorship appear entirely possible once again, according to a new poll from the University of California, Berkeley's Institute for Governmental Studies.
But the big news from this poll was that Feinstein may be more vulnerable than previously thought, as Roll Call reports:
Six months before the 2018 primary, just 41 percent of likely voters in California — a plurality — back the 84-year-old Feinstein, a new poll from the UC Berkeley Institute of Governmental Studies found.




Twenty-seven percent of those polled back Feinstein's closest challenger so far, Los Angeles-based state senator Kevin de León. A considerable 32 percent said they were undecided, which some experts said could open the door to an insurgent campaign from a political outsider.
The political outsider that could be a potential challenger to Feinstein is billionaire activist Tom Steyer, whose campaign to encourage impeachment of President Trump has kept him in the public eye in California and elsewhere. The $20 million Steyer has spent on this effort so far is sofa-cushion money for him; if he leaps into the Senate races (as he nearly did in 2016) with his wealth, name ID, and progressive street cred, Feinstein could be in real trouble (though Steyer might also split the anti-Feinstein lefty vote with DeLeon, best known as the primary sponsor of single-payer health-care legislation that he's already pushed through the state Senate).
Other polls have shown Feinstein as being in a stronger position, so it is far too early to begin predicting her political demise. If Steyer gets in, though, all bets are off.
Whatever her problems, though, Feinstein is in better political condition than California Republicans. At this point, no serious GOP candidate has announced for the Senate race (and remember, the first round that could eliminate any Republican will occur just over six months from now), and Republican voters may again be forced to decide whether to abstain from voting for a Senate candidate in November or backing the Democrat they consider least liberal (in this case, probably Feinstein, though the ideological crossover vote that was the center of Loretta Sanchez's 2016 strategy didn't show up in sufficient numbers).
There are Republicans running for governor — two of them, as a matter of fact. But Assemblyman Travis Allen and businessman John Cox are poor substitutes for the more viable candidates who gave this race a pass, notably San Diego mayor Kevin Faulconer and former Fresno mayor Ashley Swearengin. According to the IGS poll, Allen and Cox are running a distant third and fourth behind Democratic lieutenant governor (and former San Francisco mayor) Gavin Newsom with 26 percent of the vote and former Los Angeles mayor Antonio Villaraigosa with 17 percent. In theory, they could flip a coin and combine forces, but they aren't exactly on the same page: Cox is campaigning as a pragmatic, reform-oriented moderate, while Allen is positioning himself as the Donald Trump candidate.
All in all, Feinstein, for all her age issues and her alleged softness toward Trump, is in better shape to win another term than is any California Republican to make it to November to face her or Gavin Newsom. Someday the elephant may again walk tall in Golden State politics. But for the moment, Republicans are likely to focus on saving as many of their House incumbents as possible.