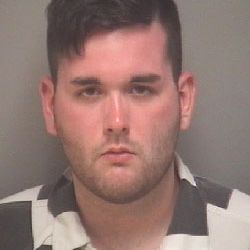 James Alex Fields Jr.
Photo: Handout/Getty Images
A judge on Thursday upgraded the charges against the 20-year-old man who drove his Dodge Challenger into a crowd at a white-supremacist rally in August, killing Heather Heyer and injuring 35 more. James Fields Jr. is now accused of first-degree murder, which could put him in prison for the rest of his life, along with eight counts of "aggravated malicious wounding," a charge that applies when people suffer "permanent and significant physical impairment," the Washington Post says.
At Thursday's preliminary hearing, prosecutors showed several videos of Fields's car plowing into a crowd and called Detective Steve Young, who arrested Fields, to testify. Young said Fields was "shocked and upset" when he was told that he had killed someone. The officer also testified that Fields had "a yellow substance that smelled like urine" on his clothes when he was arrested, NBC 12 reported.
Prosecutors argued for the upgraded charges, which require them to show premeditation, by showing video of Fields backing up his car before accelerating into the crowd at Fourth and Water Streets in downtown Charlottesville.
On the witness stand, Young said that Fields appeared to have traveled to Charlottesville alone. Though there are pictures of Fields marching with the white-supremacist group Vanguard America earlier in the day, Young said police were not able to establish any ties between him and that or any other organized group attending the rally.
But Fields's fascination with Nazis was well known by those who knew him. "Once you talked to James for a while, you would start to see that sympathy towards Nazism, that idolization of Hitler, that belief in white supremacy," a former high-school teacher told the AP in August. "It would start to creep out."
Heather Heyer's mother, Susan Bro, was in the courtroom Thursday and was pleased by the upgraded charges against Fields. When local media asked her about it, she gave the camera a thumbs-up. It was the first time she had ever seen Fields in person, something she told the Daily Beast she needed to do for her daughter.
"I feel this is part of what I owe my child," Bro said. "It behooves me to be strong. It also renews my sense of purpose about why I am doing what I am doing. I would like to say no other mother has to have her child die for social justice, but I know that's not happening, so I will do my part."