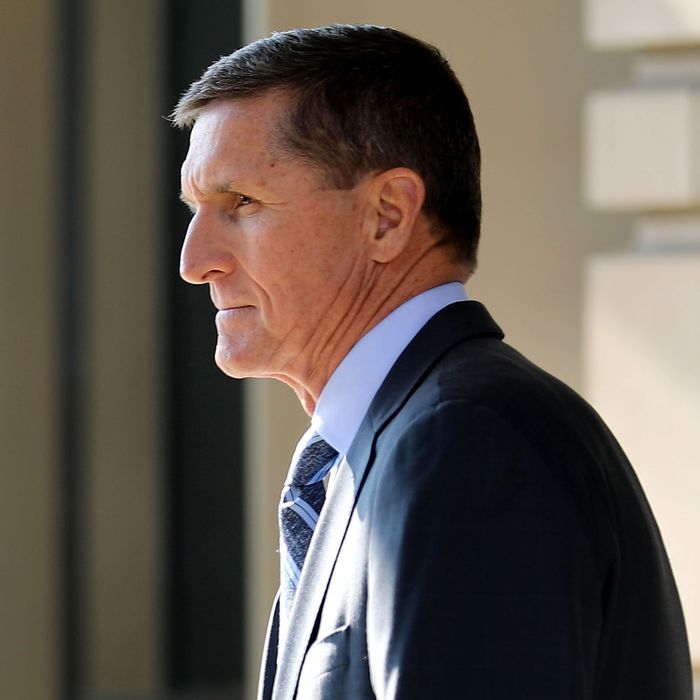 Michael Flynn.
Photo: Chip Somodevilla/Getty Images
Michael Flynn promised a former business partner that Obama-era sanctions against Russia would be "ripped up" once the Trump administration assumed power, according to a whistle-blower whose account was released Wednesday by congressional Democrats.
Minutes into Trump's inauguration speech, Flynn also texted the ex-partner, who wanted to work with Russia to build nuclear reactors across the Middle East, that the plan, threatened by Obama's sanctions, was "good to go."
These statements from Flynn to Alex Copson, managing partner of ACU Strategic Partners, reveal Flynn's attempt to "manipulate the course of international nuclear policy for the financial gain of his former business partners," Democratic representative Elijah Cummings wrote in a letter Wednesday. The whistle-blower came to Cummings in June, he writes in the letter, but the congressman kept quiet about the claims at the request of Special Counsel Robert Mueller.
With the clearance of Mueller's office, Cummings writes that he's now making the whistle-blower's story public.
According to the account, the unnamed whistle-blower ran into Copson at a party in Washington, D.C., on inauguration day. Copson, who had previously employed Flynn to advise on the deal to build nuclear power plants with Russia, told the whistle-blower that it was the "best day of my life."
"Mike has been putting everything in place for us," the whistle-blower claims Copson said. Now Cummings wants to look into the matter. In his letter, he asked Representative Trey Gowdy, chairman of the House Oversight Committee, to subpoena the White House for "all documents — including emails and text messages sent on personal devices" related to Flynn's foreign contacts.
Among other things, the whistleblower's story may reveal something about how Flynn is cooperating with Mueller. When the retired lieutenant general pleaded guilty to lying to the FBI Friday, some suggested that Mueller's willingness to let Flynn cop to a relatively minor charge meant that he's rolling over on the Trump administration to save his hide. If we assume Mueller let Flynn off the hook for this, then we can also assume that Flynn isn't just rolling over, he's sitting, barking, and playing fetch too.