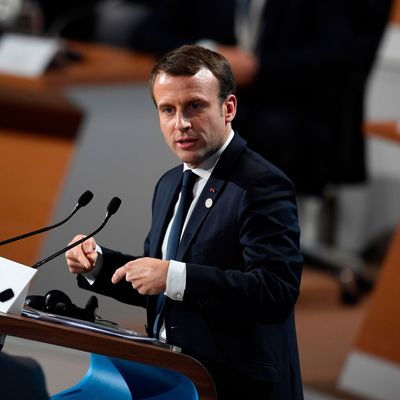 French president Emmanuel Macron speaks during at the One Planet Summit outside Paris.
Photo: Eric Fefferberg/AFP/Getty Images
With the U.S. abdicating leadership on the issue of climate change, other global powerhouses are stepping up to claim the mantle.
Among the most eager is France, where President Emmanuel Macron has been one of the world's leading critics of President Trump's decision to pull the U.S. out of the Paris climate accord.
This week, Macron and the French government took another step in the attempt to establish France as climate role model for the rest of the world, passing a new law that bans oil and gas production in the country by 2040. Though it sounds impressive, the move is largely symbolic. Just one percent of France's oil is produced domestically, while the rest is imported, according to the Associated Press. Still, symbolism is important for Macron, who has pledged to Make Our Planet Great Again, an obvious dig at Trump.
Among the challengers to Macron in his attempt to become Captain Planet is China's Xi Jinping. In October, he issued veiled criticism of Trump, calling out countries' "retreat into self-isolation" and declaring that China has taken a "driver's seat in international cooperation to respond to climate change."
Now he's introducing the world's largest market for greenhouses gases, an attempt to provide a financial incentive for the country's dirtiest power plants to clean up their acts. The market is still years away from coming online and it won't cover industry outside of power plants, but the move is still seen as a huge win for climate advocates.
On Tuesday, the original Captain Planet, Al Gore, called it "yet another powerful sign that a global sustainability revolution is underway."