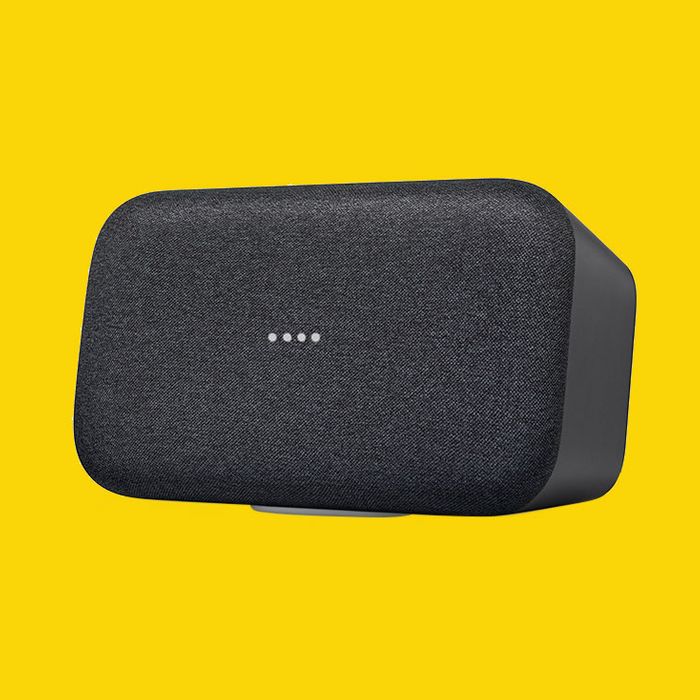 The Google Home Max's proposition is simple: If you like the idea of using Google Home's quite-good voice AI assistant but also want big, big sound, get the Google Home Max for $400. I've spent the last week using it in my own home — is it right for you? Read on.
The speaker
The Google Home Max lives up to its name: It's a big hunk of speaker, easily the size of a single bookshelf speaker, and coming in heavy at 11 pounds. Nobody is gonna throw out their back moving the Max around, but it's a far cry from the footprint we've come to expect from smart speakers — it doesn't tuck away easily on a kitchen counter, or slip in inconspicuously on a side table in your living room. It still has the same affable design aesthetic of the original Google Home smart speaker, albeit in something a lot more boxy.
There are also some elegant touches. It ships with a magnetic pad that attaches to the base of the speaker, preventing it from resonating with whatever surface you place it on — helpful, especially since it ships with two beefy woofers that could otherwise cause some serious rattle. And if you want to get the Max into a narrower space, you can flip it into a vertical position and stick the magnetic pad on the bottom, where it easily rests. And adjusting the volume is as easy as running your finger over the top edge of the speaker. It also has a 3.5-mm input in the back, meaning you can hook it into another speaker system, along with a mic-mute switch (and a largely superfluous USB-C jack).
The sound
The Max easily outpaces any other smart speaker I've used. It ships with dual 4.5-inch woofers and 0.7-inch tweeters. This translates into sound that has considerably more heft and punch than anything else on the market, especially when it comes to anything with bass.
Out of the box, its EQ is tuned for a poppy sound, which means bass and high-ends are emphasized, while mid-range sounds are somewhat diminished. You can adjust the EQ settings in the Google Home app on your phone, but even then I wouldn't say that you're going to get the flat response you might get from monitor speakers. (That said, unless you're mixing an album, you likely want that poppy tuning.) Thanks to the dual speaker setup, there's a good amount of separation — individual instruments are easy to make out, and very little gets lost, even in sonically dense songs.
For day-to-day listening, I usually kept it at about 40 percent volume. At maximum volume, it gets uncomfortably loud, but also suffers from very little distortion. If you're looking for a smart speaker that can stand up to even the most crowded house party, the Max is it.
The Max also uses its built-in mics to do some on-the-fly adjustments to its sound, depending on where you put it in the room. In practice, I found it hard to distinguish a difference when I moved the speaker around my home, but this might just mean that the speaker's placement AI is working as intended.
The smarts
It's worth taking a moment to appreciate how good Google Assistant is compared to Alexa (and, for the Harman Kardon Invoke, Cortana). It was good when the Google Home shipped last year, and it's only gotten better. It can do complex tasks easily now, like telling me how long it takes to get somewhere via public transit and then sending directions directly to my phone, or walking me through a recipe step-by-step.
If you're already deeply tied into the Google ecosystem, Google Assistant allows you to check your calendar in the morning, or to give yourself reminders for things you need to do that then carry over. It doesn't offer as many third-party voice apps compared to Alexa, but I only use a few Alexa apps regardless; what I want is a smart speaker that comes out of the box ready to be used.
And I'm not sure if it's simply better mics or better AI, but Google Assistant is also better at speech recognition. Even when asking questions around a mouthful of food, it was able to easily keep up with most requests. (All that said, "Okay, Google" and "Hey, Google" are unpleasant phrases to say compared to "Alexa.")
The bottom line
At $400, the Google Home Max isn't cheap. And if you're the type of audiophile who has a opinion about full-frequency-response speakers versus restricted-frequency-response speakers, it's tough to see Google's poppy EQ tuning jibing with you, especially when a Google Home Mini and a Google Chromecast (or an Echo Dot) allow you to put a voice assistant into any speaker system with an aux input.
If you are intrigued but not rushing to pull out your credit card, I'd recommend waiting. Apple's HomePod is coming out next year, priced at $350 and also going for a high-end audiophile vibe, including some of the same promises about smart sonic adjustments. It's hard to imagine that the Google Home Max won't see a price drop in the near future.
But if you want the best-sounding smart speaker on the market today, the choice is clear: The Google Home Max is it.